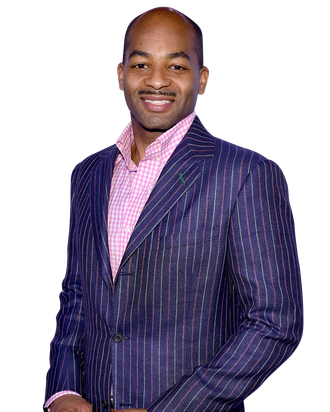 Photo: Gary Gershoff/Getty Images
When a musical storms the Tonys as thoroughly as Hamilton did last month, the idea of replacing key members of the original cast — especially if they won the Best Actor award over the show's creator and ostensible star — is nothing short of daunting. One way to make the job easier? Find someone who himself has earned acclaim and awards. That's what Hamilton's producers did earlier this week when, among other casting announcements, they named Brandon Victor Dixon the new Aaron Burr (sir), replacing the Tony-winning Leslie Odom Jr., whose final performance is tomorrow.
Dixon, who will join Hamilton in mid-August, is already a three-time Tony nominee (twice as an actor, for the original The Color Purple and the soon-to-close Shuffle Along, which he hasn't left; he won as a producer of Hedwig and the Angry Inch) and, much like Odom Jr., he's a quietly magnetic stage presence with a buttery voice. After a day of Hamilton rehearsals and before an evening Shuffle Along performance, Dixon spoke to Vulture about stepping into Odom's shoes, his rapping (and slow-jamming) talents, and whether audiences can expect a Sexy Burr.
Let me start by saying it's possible I was more excited about this news than you were.
Really! Why thank you. We finished our contract negotiation last week. They had reached out to me, I think, the prior week, and it took a couple weeks. We made it happen.
Have you gotten memorable reactions to the news?
Ev-ery-body. I mean, my niece's school friends were like, Oh my God, your uncle's about to be in Hamilton! People in my mom's church. People who even don't know much about theater, but everyone's extraordinarily excited. Which is funny, and lovely. I'm glad this is bringing so much joy to people in my life.
Leslie Odom Jr. posted a message on Instagram that he sent you the day it was announced Shuffle Along was closing, which said "You need a break? Or … time for your Burr?" What's your side of that story?
When he sent that, I had actually already been contacted by the Hamilton team, and Leslie didn't know. I found it really interesting that he sent it, so I wrote back and said "I appreciate it, it may be time for a rest or it may be time for my ….. we'll see." And he just said, "You know, I love you, I'll see you at the show soon." It was one of those things, when he sent it, I was like, Okay, did they try to get him to recruit me? Is he Steph Curry and I'm K.D.? What's going on? [Laughs.]
Does a Tony nominee need to audition for Hamilton?
I actually auditioned for one of the early workshops a couple years ago. I had read the material and I knew it was going to be a gargantuan hit, so I figured, Let me just try to get as close to it as possible. But I also knew that the main roles were already occupied by people like Chris Jackson and Leslie — you know, Lin has his crew.  So I didn't think there was anything in there for me; I figured I'd just go in for the exercise of it. But I did "Theodosia," "Washington on Your Side," Hercules Mulligan's rap, and I sang "You'll Be Back."
That's quite a variety of characters covered. Were they considering you for King George?
My agents were like, "They love you, they just can't figure out what to do with you." It was all good. I mean, I did hear through the grapevine that King George is what they were looking at most specifically for me.  But they found some silly old guy named Jonathan Groff!
So this time around …
They just called me and asked if I'd be willing to do it. They've known me for a long time, and I think there was an overall level of confidence in my abilities — and they know I can get in there in the amount of time they need. I had to think about it, but once the situation at Shuffle became clear, it was a fairly immediate yes.
You're going from one revolutionary show to another, but they have very different singing styles. Is that an adjustment you have to make, or does it feel natural?
The shows are very different, but the material in Hamilton is not so alien from other things I've done. It's essentially Les Misérables meets Rent in a modern vernacular, and those are two of my favorite shows, ones I know intimately. And I'm a fan of a lot of the things that Lin is a fan of so that helps.  Shuffle Along, it's very period — I don't consider anything I do to be singing in Shuffle Along, actually. It's character work. But there is certainly singing in Hamilton. Burr has a couple of numbers where he gotta make some notes happen.
You're already in rehearsals, and this is role is an incredibly heavy lift.  Have you given yourself a kind of Burr intensive?
You're a fan of mine for a reason, aren't you? I'm up for a heavy lift, dahling. That's what I'm doing now! The second I make dinner, I pop that CD in. I pulled out all the songs from the album that Burr is on, and I've sectioned them out and kinda go three songs at a time, ad nauseum. It's a lot of words and rhythms, but thankfully it's the kind of thing you can ingest audibly. So yeah, I've been on a material intensive.
Superficially at least, your voice and Leslie's seem to have a lot of similarities.
Generally speaking, we do. I actually think Leslie's voice might be slightly lower than mine, but it's possible he's been using that part of his voice more regularly.
What's your favorite Burr number to do, and what do you find most challenging?
The answer to both is "Wait for It." That's my favorite, the one I listen to the most, but I also realized it's lower than I thought. I've had to recalibrate how I approach it.
When you step into a role that's been portrayed as iconically as Leslie did, does that make you want to follow in his footsteps or go in a different direction?
Hell no! I'm stealing all his stuff! I wanna learn what it is and get to know it well enough to make educated decisions. Then I will naturally start to deviate and make adjustments. But I'mma give them a straight Leslie Odom for a full week to create a false sense of security and then flip the script the second they turn they backs! [Laughs.] Leslie has a smooth subtlety but there's an edge to it, there's a blade there, and I love that about what he does. And Leslie has a very powerful centering quality that gets communicated in all his work, whether you watch him onstage or onscreen.
What are your rapping skills like?
I've been on the mic since the Sugar Hill Gang! I've never considered rapping to be difficult. Anybody can learn words and a rhythm. That's just how I think. For me, rapping is, if you can write rhymes and freestyle, then you're a rapper. But memorizing a rap song, anybody can do that. My brother's been texting me like, Fool, you can't rap, what they gonna do? Okay, calm down.
Javier [Muñoz] is already known as the sexy Hamilton. Are you planning to bring sexy Burr to the table?
We're gonna see. I can't imagine you want too much sexiness onstage. You don't want to be overpowered by sexy qualities. I'mma let Javi have that, and I'll see what space there's left to occupy.
Well, I enjoyed your backstage K-Ci & JoJo duet with Joshua Henry at Shuffle Along, and I hope more backstage slow jams are in your future. I have this theory that you're the lost member of Boyz II Men.
Are you the one who tweeted that after The Wild Party?
Yes. Yes, that was me.
I remember that — the second I read that I laughed out loud. At first I thought, "Maybe she went too far!" But Mr. Lippa [Andrew Lippa, writer of The Wild Party] said to sing, so I sang!
I would not object to a little more K-Ci & JoJo backstage at Hamilton. Or as a #Ham4Ham …
K-Ci & JoJo is probably a special place in my heart I'm gonna have to reserve for Joshua and me. But I'm sure he'll happily come by Hamilton and we can break a couple more down.