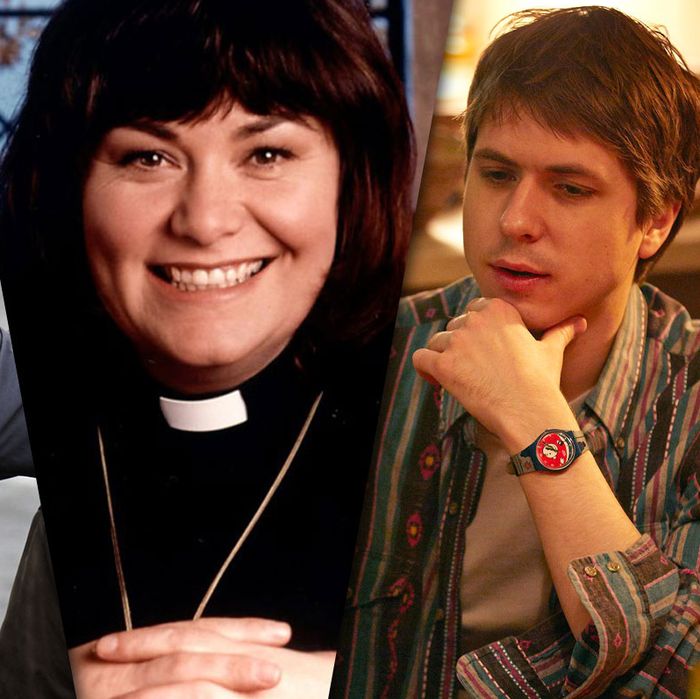 Photo: BBC Two, BBC, Channel 4
Earlier this year, we put together a list of 13 light British television comedies worthy of your time. Of course, the list was far from comprehensive — shortening the storied history of British comedy on the small screen to a mere 13 programs is not an easy task. So with that in mind — and with Fleabag, the latest great British comedy to arrive Stateside out on Amazon now — we've decided to double our recommendations to highlight even more excellent television from our friends across the pond. (And if you're interested in even more British programming, we've compiled a handful of the best dark comedies, gritty sci-fi shows, and Downton Abbey–esque dramas, too.) From Fresh Meat to Vicar of Dibley, even the names will make you laugh.
Fresh Meat
What's it about? Five "freshers" (first-year students) and one older student at a fictional Manchester university are forced to live together in an off-campus house after turning in their housing applications late. Your typical college shenanigans ensue throughout the four seasons: relationship conundrums, internship qualms, financial aid, and the inevitable terror of job-seeking.
How light is it? This is a standard university-set show with a hearty mix of juvenile humor and seriousness. If The Inbetweeners went to college and added 25 percent more drama, this would be the result. (And one of the Inbetweeners stars, Joe Thomas, is a lead.)
Where can I watch it? Hulu, Netflix
Vicar of Dibley
What's it about? An exuberant female vicar (played with great panache by Dawn French) surprises the conservative rural town of Dibley when she moves in after being hired by the local parish. (A woman in the church, gasp!) But don't worry, she slowly and surely wins over the hearts of the townsfolk through her genuine kindness, naturally affable personality, and some killer wit.
How light is it? It's a light and breezy ride with some unexpectedly inappropriate jokes thrown in for good measure. And don't let the 1994 premiere date dissuade you — the humor holds up really well.
Where can I watch it? Netflix
Twenty Twelve
What's it about? Twenty Twelve has so many wonderful things going on throughout its two short seasons. David Tennant narrates the mockumentary-style series, which chronicles a team of organizers (Hugh Bonneville in plainclothes! Olivia Colman!) tasked with preparing the 2012 Summer Olympics in London. You just know there's going to be a lot of trial and error here.
How light is it? Pretty light and cheerful. It'll make you nostalgic for the smoothly executed and Zika-free 2012 Olympics, too.
Where can I watch it? YouTube, Amazon, iTunes
Friday Night Dinner
What's it about? A secular Jewish family — a mother, father, and their two grown sons — gather every Friday evening for a traditional Shabbat dinner in their home. The boys are rambunctious (Simon Bird, another Inbetweeners alum, plays one of them), the eclectic dad has a penchant for taking his shirt off, and the mom (Tamsin Greig, of Black Books fame) just wants to have a nice evening. And of course, there's a peculiar neighbor who won't leave them alone.
How light is it? Very goofy. The family really does put the fun in dysfunction.
Where can I watch it? Dailymotion, Amazon, iTunes
Saxondale
What's it about? If you ever thought to yourself, Gee, I like Steve Coogan's Alan Partridge character, but I wish he was a lot angrier and had terrible facial hair, it's your lucky day! Coogan portrays Tommy Saxondale, a rock roadie turned exterminator who wages war against pests. Accompanying him in the wonderful world of suburban pest control is his somewhat-anarchist girlfriend Magz, and the two soul mates make quite the kinky couple.
How light is it? The twisted mind of Tommy is a sight to be seen, especially in his therapy sessions. (His acquaintances are equally odd.) He's egotistical, arrogant, and constantly believes he's surrounded by idiots. It's 50/50 light and dark.
Where can I watch it? Veoh, Amazon, iTunes
Rev.
What's it about? Yet another vicar-centric show! A skilled Anglican vicar (Tom Hollander, seen recently in The Night Manager) gets promoted from a snoozy rural area to a bustling urban parish in East London. Between his supportive solicitor wife (Olivia Colman again!) and his various boisterous parishioners in this new environment, the power dynamics and inner workings of a church have never been so appealing.
How light is it? It's your standard sitcom, with a lot of additional poignant commentary regarding humanity, morality, and religion.
Where can I watch it? Hulu, Amazon
Monty Python's Flying Circus
What's it about? There's not much to say about the sheer brilliance of Monty Python's Flying Circus that hasn't already been said and documented. Graham Chapman, John Cleese, Terry Gilliam, Eric Idle, Terry Jones, and Michael Palin's seminal sketch show is required viewing for any comedy enthusiast, with the group's surrealist and absurdist sketches still as remarkable in 2016 as they were in the late '60s and early '70s.
How light is it? It's light — and quite risqué — as long as you can understand the complex and intellectual backbones for the jokes.
Where can I watch it? Seeso, iTunes
The Thick of It
What's it about? Peter Capaldi played a different kind of doctor before his Doctor Who tenure: a spin doctor! The Thick of It follows Malcolm Tucker, an aggressive and highly skilled director of communications for the U.K. government, who specializes in crisis management. His threats and daily excursions are truly sublime. (And for what it's worth, the show's creator, Armando Iannucci, went on to create Veep.)
How light is it? As the above expletive-laden video indicates, this is arguably the darkest series on the list. But through it all, you can't help but look at Capaldi hauling ass around 10 Downing Street and think, You know what, this is very, very charming.
Where can I watch it? Hulu, Amazon
Mr. Bean
What's it about? Rowan Atkinson's Mr. Bean has been a staple in British comedy ever since its 1990 debut, and it's easy to see why. The character of Mr. Bean — an utterly lovable, tweed-wearing buffoon with a juvenile demeanor — is a virtuoso example of physical comedy as he experiences the minutiae and struggles of daily life.
How light is it? This is the epitome of silliness, especially with regard to his absurd solutions to relatively simple situations. Some might actually consider it to be too silly.
Where can I watch it? Hulu
Coupling
What's it about? Before taking the reigns of Doctor Who, Steven Moffat created Coupling, an ensemble sitcom that follows the many misadventures of six best friends — three women, three men — as they go about their sexually vivacious lives. Will they ever actually find true love? Only time (and many regrettable nights out) will tell.
How light is it? Think of it as the lewder British cousin of Friends.
Where can I watch it? Hulu, Amazon
Outnumbered

What's it about? A middle-class family in modern-day London — consisting of two cool-as-a-cucumber parents and their three youngish children — try to go about their daily lives as best as possible, despite the kids frequently being major pains in the ass. (Hey, they call it Outnumbered for a reason.) But throughout the show's five seasons, the kids slowly and surely grow up a little and get a grip on life. How nice!
How light is it? Another standard sitcom. It's also refreshing to watch a family that genuinely likes each other and isn't encompassed by too much self-loathing despite their various flaws.
Where can I watch it? Hulu, Amazon, iTunes
The Trip
What's it about? You may have encountered The Trip as a film, but it originally premiered as a six-part series in 2010. Starring Steve Coogan and Rob Brydon as fictionalized versions of themselves, the snappy, impression-obsessed duo embark on an all-expenses-paid restaurant tour in the north of England after Coogan gets an assignment from a newspaper. Don't be too jealous, foodies. (An equally great sequel, The Trip to Italy, came out in 2014.)
How light is it? The opposites-attract friendship and witty banter will keep you chuckling, but if you don't like impressions, you might want to steer clear. There are a lot of impressions. Overall, it's quite lighthearted, with a bit of darkness peppered in from Coogan's midlife-crisis ennui.
Where can I watch it? Hulu, Netflix, Showtime, iTunes
Green Wing
What's it about? Set in perhaps the most outlandish hospital of all time, Green Wing combines an eclectic mix of rapid-fire jokes, soap-opera antics, sketches, and documentary-style storytelling to chronicle its cast of medical and office workers. With their various follies and quirks, it's truly shocking that the hospital never burns down to the ground.
How light is it? This is definitely darker than your average sitcom, especially when you add in its surrealist elements. It might even make you feel uncomfortable at times. But if you don't like medical-centric shows, don't worry — it focuses on everyone's personal lives.
Where can I watch it? Hulu, Netflix