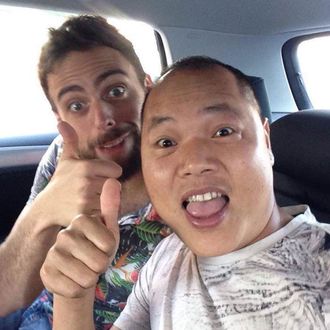 Matt Stopera and Li Hongjun.
Photo: broorange/Twitter
BuzzFeed may make videos about things introverts secretly love, but it appears the company will also have a hand in feature films: THR reports that the company is partnering with Warner Bros. to make a film out of the "Brother Orange" saga, the true story about how a set of selfies on a stolen iPhone connected BuzzFeed's Matt Stopera with a Chinese man named Li Hongjun and turned the pair into international celebrities. Ellen DeGeneres and Broad City's Ilana Glazer are set to executive produce. THR says the movie will be about "an unlikely, accidental friendship that transcended cultural divides," though the truth is, as always, a little more complicated than that.