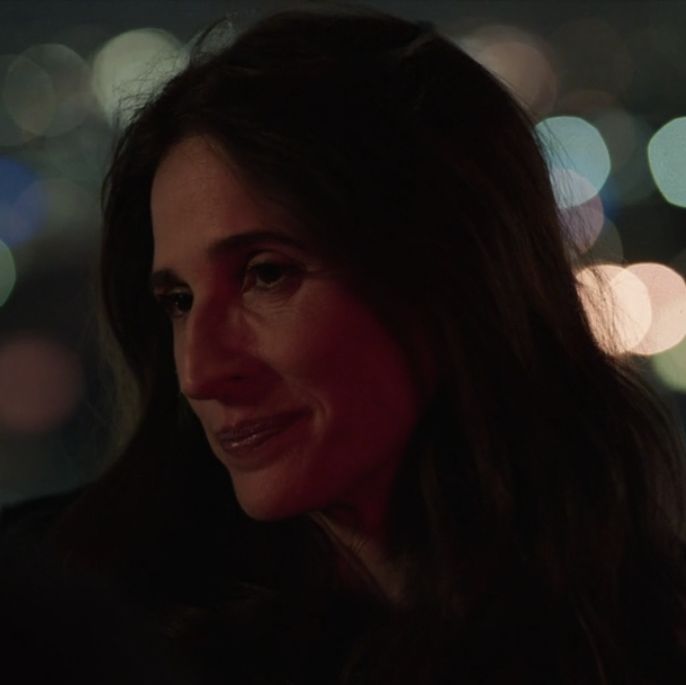 Michaela Watkins as Valerie.
Photo: Hulu
After months of countless bad dates, Valerie is making serious progress. She's got good texting banter, knows not to use emojis, and instead of making plans, simply plays it by ear. They grow up so fast!
As soon as she gets to her office, though, she finds flowers waiting from Harry and can't help but feel disappointed. When Jennifer arrives, Valerie helplessly heads for the couch; it's her turn to be the patient. As her friend turned therapist, Jennifer advises her to go out with Harry, who is "stable, loyal and reliable."
But for once, Valerie chooses the grand gesture: When Jack sends her a photo of champagne and a hotel-room number later that day, she doesn't hesitate. Disregarding Jennifer's advice, she shows up to see Jack, and they share a fun, spontaneous day together. He isn't safe or comfortable like Harry, but Valerie is able to be herself. She finally seems happy. That really counts for something, right?
At work, Jordan is rightfully confused by Alex's relationship with Falen, but Alex insists he just wants everyone to be happy. As soon as he leaves the conference room, he quickly spots Sarah in the office and makes his move. He invites Falen to dinner in front of Sarah, doing whatever it takes to make her as jealous as possible.
But as soon as it's just the two of them, the act falls apart. They go to a Korean restaurant where Falen notes that there are, in fact, "a lot of Koreans." Alex thinks she sounds racist, but she argues that "it's more racist to think that's racist." Alex gives up and tries to order a drink immediately to avoid any more arguments, or any talking in general. When it's Falen's turn to order, she takes out a card from her purse with instructions for a negroni so they don't get it wrong. Alex points out that it's a simple drink, but Falen reminds him that "even the most capable-seeming people can be useless." As soon as she orders this negroni, we finally begin to understand who Falen is — and she is terrifying. Alex is ready to make his escape, only to stay when Falen suggests they go to Jordan and Sarah's engagement party together, since he remembers why he's there in the first place.
When Laura and Aubrey arrive at school, they discover their bra photos were sadly deleted, as Spencer doesn't want to spend his "last six months in jail for kiddie porn." Laura approaches Spencer after class, and asks him what it's to like to know he's going to die. He speaks matter of factly about it, explaining he has a bucket list to complete before he dies, which instantly draws Laura in.
Meanwhile, Valerie and Jack have left the hotel room, but only make it as far as the roof. He asks her to describe the happiest minute of her life, and Valerie tells him about how she packed her bags and drove up north without knowing where she was going. After following the relentless Andersen's Pea Soup signs, she told herself that everything would be okay if she made it to the soup. But of course, the soup was terrible. Valerie speaks candidly, noting that "nothing is ever as good as you think it's going to be." After she eats the soup, she goes back home and realizes that everything will be okay. When she tells Jack that this is her happiest minute, we realize why she's often so cynical: She's been disappointed too many times and has now come to expect it.
Back in the hotel room, Jack asks to see her again, but Valerie's hotel-roof sincerity has faded, and she's back to playing games. She lets Jack know that she is seeing his friend, Harry, and doesn't confirm that she'll come over afterwards. In an attempt to follow Alex's dating rules and keep the relationship going, she surprises Jack, as well as herself.
Laura is feeling philanthropic, and suggests to Aubrey that they have a threesome with Spencer. Aubrey is hesitant at first, but goes along with the idea to get closer to Laura. When Valerie returns home, she can't wait to tell Laura about her day with Jack; they're no longer just mother and daughter, but close friends. Aubrey witnesses this transformation, and is visibly confused by their relationship. Valerie notices and nervously attempts to reassume the role of responsible mother by suggesting they order pizza, but no one is fooled.
Alex arrives at the engagement party, ready to impress. He brings yet another gift, and not only remembers Falen's name, but also her drink order! Jordan and Sarah look as disgusted as Alex probably feels, and he is just getting started. They continue to put on a performance for everyone, but Falen is unsatisfied and demands that he "even out" and "find a rhythm," treating the game they are both playing to win over their exes as an actual sport. Alex is shocked that he has been used by Falen, and realizes he might not actually be the craziest person at the party.
When Laura sets the threesome in motion, Aubrey is no longer her usual confident self. But as soon as Laura takes her shirt off, it's too late; she knows she must go through with it. Afterwards, we cut to the three of them lying in Laura's bed. Aubrey holds Laura's hand to demonstrate her loyalty, but Laura, caught in the middle, looks to Spencer instead.
Valerie doesn't end up going to see Harry, and instead finds herself outside Jack's hotel room. When Jack isn't there, she feels foolish for thinking she could be transparent about her feelings. At home, Alex believes that all is lost with Sarah … until she arrives at his door and they finally kiss! It's the moment we've been fearfully waiting for. Now it's time to see where it will go.