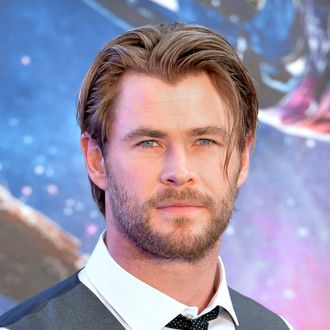 Photo: Anthony Harvey/BAnthony Harvey 4
Prior to Chris Hemsworth's turn as Thor in the Marvel Universe, the actor hung out in another beloved franchise playing George Kirk, father of Chris Pine's James T. Kirk, in 2009's Star Trek. He was not long for the reboot's world — his character dies heroically in the first installment of the franchise, saving his wife, newborn son, and the other passengers of the USS Kelvin.

Now it looks like Hemsworth is coming back to Star Trek in a major way. When asked if there were ideas being tossed around for the next Star Trek movie, J. J. Abrams teased that he had big plans for Star Trek 4: "There's something that hopefully we're figuratively minutes away from talking about. The answer is 100-percent yes, and it's incredibly exciting."
A tweet from Access Hollywood film critic Scott "Movie" Mantz broke the good news.
No word how the franchise plans to resurrect the long-gone George Kirk, but a gambling man would be wise to put his money on time travel, an established convention in the Trek universe.