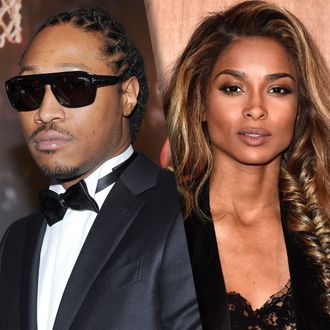 Yikes.
Photo: Getty Images
The Lifetime movie treatment that is the never-ending saga of Ciara and Future has yet another sad addendum. In newly filed legal documents, Ciara argues that Future had threatened to harm her fiancé, Russell Wilson. She cites a 2015 tweet with "football emojis and guns pointing towards the footballs" as well as the lyric "Tryna f—my baby mama, dog what's up with you? / You gon' make me get that heat, I'm pulling up on you" in Future's new song "Juice" as "imply[ing] a real threat made directly" toward Wilson. She calls the song "socially irresponsible" for making light of gun violence in the wake of the Orlando shooting, and calls Future's "recent erratic behavior" "frightening." To support her allegations, Ciara's lawyers provided excerpts from Future's telling deposition. Here are nine things we learned:
1. Ciara never formally requested that Future pay $15,000 a month in child support. While Future tweeted that Ciara was forcing him to pay that amount in order to see Baby Future, he told her lawyers it was a "face to face" verbal request that Ciara argues court documents disprove. Future also said he's "not sure" if any of the information in his tweets was false.
2. Those tweets allegedly cost Ciara work. Ciara argues that as a result of Future calling her a "bitch" with "control problems," she "lost one or more contractual or employment opportunities after Defendant's angry tweets became the subject of public conversation, hundreds of gossip blogs, and media outlets." In his deposition, Future said if he doesn't mention Ciara by name, he doesn't understand why his words would cause her to lose an endorsement, but that he also doesn't care "at all" if it does.
3. Ciara says she never prevented Future from seeing their son. Her lawyers write: "Defendant admitted in his deposition that he could not remember any occasion when Plaintiff flatly denied his visitation requests." According to Ciara, Future "did not want to co-parent directly without becoming angry or without the assistance of his mother or attorney."
4. Future doesn't care if his words harm Ciara. When asked several times by Ciara's lawyers if he knew his tweets or anything negative spoken about Ciara caused her harm, he says, "I'm not sure." But when asked to confirm that he doesn't care if his public statements do cause actual harm Ciara, his response: "Uh … correct." Future also admits that the "controlling bitch" he was referring to was Ciara, but that he doesn't believe the tweet was disrespectful.
5. Future was never sure if Ciara's negative tweets referenced in his dropped countersuit were about him. He also says he didn't incur any damage from her tweet allegedly calling him "ignorant," never asked her to delete them, doesn't think it's wrong if that's her opinion, but wants a "public apology" from Ciara only if the tweet was, indeed, about him.
6. Future might be feeding false information to TMZ. Ciara claims that Future was the source who told TMZ he received joint custody of their son, but that no such custody agreement actually exists. "Defendant continues to purposely mislead the public about the parties' private family affairs for some unknown reason," her lawyers write. "Why any 'sources' would say that Defendant 'got his kid' is incredible."
7. Ciara thinks Future is purposely singling her out. Ciara claims that Future "wants to bully, harass, and destroy" her, but hasn't treated another litigious mother of his child with the same disrespect. "He never publicly speaks so often and so negatively about any of his other children's mothers, not even one of the other mothers who has recently filed a lawsuit against him, and who maintains that Defendant does not spend adequate time with their son together," her lawyers write.
8. Future doesn't know if he can stop publicly speaking about Ciara. One of the demands of Ciara's lawsuit is that Future stop publicly talking about private matters regarding her and their son. After first agreeing that it's possible to not talk about Ciara publicly, Future told her lawyers that he's "not sure" if he can't talk about her in interviews because he "just answer[s] the question accordingly." If asked by a journalist personal sexual questions regarding Ciara, Future also says he's "not sure" he won't answer. And when asked if he has "any regard" about how such question could affect Ciara, his response: "Not at all." He's also "not sure" if it's possible for him to not use Ciara's name publicly.
9. Ciara alleges that Future may have been negligent with their child. Her lawyers argue that Future painted a negative picture of himself as a parent in his recent Rolling Stone cover story: "Defendant is featured on the cover of Rolling Stone magazine discussing his 'rock star' lifestyle of abusing prescription codeine, marijuana use, multiple strippers and naked parties during a recent trip to Jamaica, in which he recently took the parties' minor child."
Future has yet to explicitly respond to his deposition going public, but he did leave this subtweet: