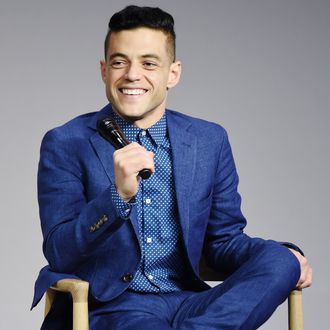 Rami Malek in New York.
Photo: Nicholas Hunt/Getty Images/2016 Getty Images
At Thursday's Mr. Robot Comic-Con panel, Rami Malek, Christian Slater, Portia Doubleday, and Carly Chaikin were on hand with series newcomer Grace Gummer to discuss the madness of starring in Sam Esmail's nerve-twisting fun house. They talked about Mr. Robot's stellar use of music, their characters' motivations, and who in the cast plays Pokémon Go (it's Slater). But the most interesting point of conversation came when an audience member asked who each of the actors would play on the show if they could pick any other role.
A version of this question comes up a lot in panels and roundtable discussions, but when Malek said he would play Doubleday's character, Angela, it felt like he was foreshadowing a fascinating season for the show's best sleeper story line, considering he plays the show's dynamic and tortured star. What would attract him to Doubleday's role so far?
It actually makes a lot of sense. Angela's narrative arc since the beginning of the first season has been the most drastic of any of the primary characters — she's gone from semi-content office drone to ambitious power PR woman at Evil Corp — even if it hasn't been the most dramatic, yet. Doubleday touched on her character's creepy fixation with those positive affirmations we first saw in episode two of the current season, saying, "I think that there's something really dangerous to be said about her obsession with these affirmations. What that is stemming from is something quite explosive. I wanted to get more into what Angela struggles with internally. She's a very troubling character. In a way she is unfortunately very malleable, which is exciting because you don't know what's going to happen with her." Doubleday ended on a vague but telling tease: "What ends up happening, nobody will be able to predict with her story line."