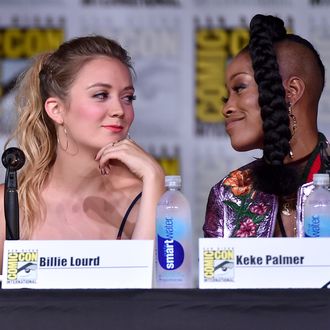 Billie Lourde and Keke Palmer at Comic Con.
Photo: Alberto E. Rodriguez/2016 Getty Images
At last year's Comic-Con, Fox debuted Scream Queens, Ryan Murphy's demented mashup of Heathers and Halloween, to a packed but modestly sized room, filled with the producer's biggest fans. The event consisted mostly of horror legend Jamie Lee Curtis doling out verbose introductions for each of her young co-stars: Keke Palmer, Abigail Breslin, Skyler Samuels, Emma Roberts, Billie Lourd, and Lea Michele.
One year later, watching those same stars assemble (sans Samuels) for their Friday-night panel in the upgraded Ballroom 20 was an almost meta experience. This time, Curtis didn't have to do all of the talking — having one season of Queens under their belts seems to have emboldened and transformed her co-stars into a sorority of their own, mirroring the fake onscreen hierarchy of Kappa Kappa Tau to an almost eerie degree. And just like in the finale of season one, Keke Palmer has assumed the role of house president.
At one end of the table you had the apparent in-crowd of Palmer, Breslin, and Lourd, whispering secrets and trading high fives. The supporting Chanels were in their right place, but with Palmer installed as their leader and basically holding court at her leisure. Michele was in the middle of the table, but still managed to be an island apart from the other girls, which was just so Rachel Berry/Hester Ulrich. At one point she looked with pleading eyes at Roberts, who was giggling with John Stamos, and half-whined, "What are you guys talking about?"
But Roberts herself couldn't crack the inner circle of Palmer and company, either, and got stepped on no fewer than four times in a row while trying to explain what her favorite outfit was from season one. Michele eventually asked Roberts what she was trying to say, but Roberts admitted defeat and just replied with "Nothing. Nothing at all," before only half-jokingly looking down at her castmates and saying, "You guys are being especially mean to me today!" Which is such a Chanel Number 4 kind of comment.
And all the while, Curtis stayed out of the fray with a smirk on her face, tossing out the occasional brassy one-liner and maintaining quiet control of the situation. It's as if Murphy, Ian Brennan, and Brad Falchuck wrote season three of Queens and set it amongst a bunch of spotlight-thirsty millennial stars and then staged it in a room at Comic-Con. In other words, it was a hypnotic display of brilliantly bratty Murphy characters in action, except in real life! Over the course of the panel it became clear that Samuels, the most vanilla of the group, was too neatly pretty to survive in this weird universe. (We'll almost miss you, talking pumpkin.)
As for what's coming in season two, the cast and Brennan dished a little on what we can expect. Dean Munsch has used the money she acquired from her best-selling book on "New New Feminism" to buy a hospital, for unknown reasons, where the story will be set three years after the events of season one. The Chanels are back and on good terms with one another, even if they are no longer stitched together by the bonds of slave and master, and Zayday Williams is now a med student. Taylor Lautner will play a doctor, and Stamos will be the head of surgery, despite being the world's first recipient of a complete hand transplant. We can also look forward to guest appearances by Cecily Strong and Colton Haynes, who's really playing to that gay fan base now that he's out.
When asked whether or not Dean Munsch will have a new love interest, Curtis said, "There's a lot of love at this table that she can have in her life, and I do not discriminate. Nor do I discriminate by gender. Because I'm a feminist." As for Chanel Number 3's budding sexuality, which included a tryst with a "predatory lez" last season, Lourde said, "She's pansexual, so she's gotta get around the whole pan," and when the reemergence of Chad Radwell was brought up, Stamos told the crowd, "The script that I read said I'm showering with this young man."
This is shaping up to be a positively Murphy-esque mess.