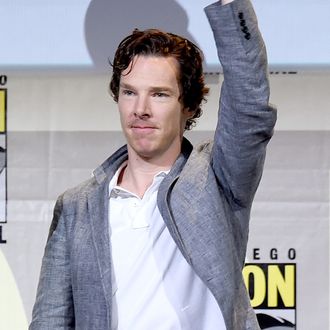 Photo: Kevin Winter/2016 Getty Images
The cast and creators of Sherlock didn't give fans much in the way of specifics about season four during their Sunday afternoon panel at Comic-Con, but the creative team did share three words to get fans primed for the next installment of the BBC drama, slated for 2017:
Steven Moffat: "Smith."
Mark Gatiss: "Thatcher."
Sue Vertue: "Sherrinford."
What could they mean?! At the very least, we strongly suspect they will involve Sherlock's archnemesis, Moriarty, played by Andrew Scott. And we know that it's going to be very intense, since Amanda Abbington (who plays Watson's wife, Mary Morstan) warned the crowd, "It's the darkest that Steven and Mark have written … If we can pull this off, it will be amazing." Then, Benedict Cumberbatch, making his first appearance at a Sherlock panel for Comic-Con, followed Abbington by saying, "It's a genuine emotional roller-coaster."
Cumberbatch, who had visited the long line of fans camping outside Hall H on Friday night, later wrapped up the panel by saying, "I want to say thank you. It's nice to be able to sign off and say thank you, because your queuing and your co-splay and the hours you spend making this event what it is … It's extraordinary. It's inspiring, and it's completely overwhelming and utterly humbling. It really is. So, thank you."
You can check out the season four trailer below. It's got Moriarty, a devious Toby Jones, a strung-out looking Sherlock, hand-to-hand combat, and one very not-having-it Mrs. Hudson. And remember: Smith. Thatcher. Sherrinford.