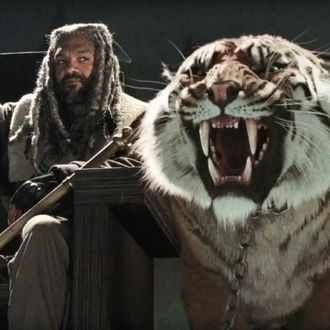 King Ezekiel will see you now.
Fear the Walking Dead and The Walking Dead occupied the biggest room at Comic-Con for two straight hours on Friday afternoon, kicking off a big day for TV fans in Hall H. The Walking Dead took the stage for the second hour, functioning as a kind of main event for AMC's Comic-Con programming schedule. And of course, with the stage packed full of actors and writers and producers, all conversation turned to the season-six cliff-hanger that left basically every meaningful character on their knees in front of the show's new big bad, Negan, played by Jeffrey Dean Morgan.
Morgan strutted onto the stage in full-on villain mode, wielding his character's bat, Lucille, and telling the crowd, "You can breathe. You can blink. You can fucking cry. Oh hell, you're all going to be doing that!" And at that moment it became clear that Morgan wasn't so much cast to play Negan, as he was tapped to realize the repressed sociopath that has lived inside him his whole life. After everyone got seated, moderator and Talking Dead host Chris Hardwick queued up a brand-new trailer for season seven that didn't give fans any answers about who Negan ended up beating to death during last season's finale, but did give them a first look at King Ezekiel and his majestic pet tiger, which drew massive roars from the crowd.
Hardwick had one big question about the impending reveal: Was it going to be worth the wait? Writer Scott Gimple and his fellow producer, Greg Nicotero, assured the audience it would, but the man who plays Rick Grimes, Andrew Lincoln, issued a word of warning to everyone on hand: "It's a really shitty start of the season, but hang in there, guys." Meanwhile, Lauren Cohan seemed to be getting so wistful and emotional while talking about filming the final scene with Negan, that our paranoia-addled brains couldn't help wondering if she will be the victim revealed in season seven. If that ends up being true, Cohan really needs to put in work on her poker face.
But the most poignant moment of the panel was when a woman named Jill, dressed as Michonne, came to the microphone during the Q&A and said, "We live in a country where you can get gunned down in broad daylight for looking too black," and then thanked Danai Gurira and The Walking Dead writers for fighting back against "the erasure of dark-skinned black women" and elevating Gurira's character beyond being a sidekick or a fetish object.
Gimple said that one of the best parts about writing characters in an apocalyptic narrative means that he can explore their humanity and their choices without the "hang-ups" built into a developed society with developed prejudices. For her part, Gurira told Jill, "I hear you. I have always been a black girl, so, I hear you," and added that she understood the kind of validation women who look like them might feel by seeing Michonne on-screen, especially as the character embarks on a romantic relationship with Rick.
So, what they're basically saying is that there's no way Michonne can be Negan's victim, right? Because if she is, we are vowing right now to burn your house to the ground, AMC.