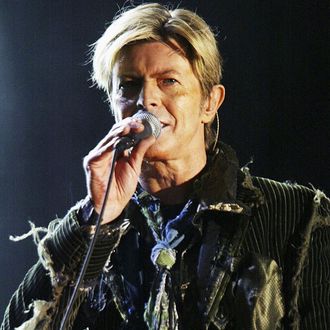 Save, save, save.
Photo: Jo Hale/Getty Images
When David Bowie wasn't busy making some of the most groundbreaking art of his generation, he was a fierce private collector of some of history's most famous artwork, having owned more than 400 pieces. For the first time ever, the late icon's personal collection will be revealed to the public; it will later go up for auction this fall. Starting November 1, Sotheby's plans to display the entire collection at its New Bond Street galleries, in London, for ten days, after which all 400-plus items will go up for sale at a three-part auction, on November 10 and 11. Some of those items include works by British 20th-century artists Frank Auerbach, Damien Hirst, Henry Moore, and Graham Sutherland, and there are also works by Jean-Michel Basquiat, Marcel Duchamp, and Ettore Sottsass.
The whole collection is valued at $13.2 million, with Basquiat's Air Power — which Bowie bought the year after playing Andy Warhol in 1996's Basquiat — expected to be the biggest seller at $3–4 million. But if London art-collecting isn't quite in your budget, Sotheby's will also tour some of the highlights at early preview exhibits in Los Angeles, New York City, and Hong Kong through September and October.