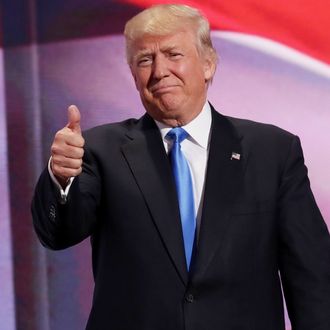 Photo: Chip Somodevilla/2016 Getty Images
The first time Republican presidential nominee Donald Trump appeared on Monday at the Republican National Convention, he walked out under a low, blue haze as Queen's "We Are the Champions" blared in the background. As he took the podium, before introducing his wife, he stated, "We're going to win, we're going to win so big." And it is, perhaps, because Trump has, as the song goes, "no time for losers," that his campaign never bothered to ask permission for the use of the stadium classic.
"I can confirm that permission to use the track was neither sought nor given," Brian May, a founding member of Queen, wrote in an open letter reassuring upset fans. "Regardless of our views on Mr. Trump's platform, it has always been against our policy to allow Queen music to be used as a political campaigning tool."

Shortly after his appearance, the band's deceased front man Freddie Mercury, under the incorrect spelling "Freddy Mercury," began trending on Twitter. Many users believed that the British vocalist, who was gay, would not have approved of the use of his song for Republican purposes. Read several of the responses below.
Update: On Twitter, Queen officially condemned Trump's use of the song.