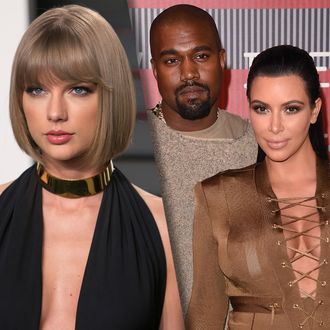 Interviews, like any interaction between virtual strangers, are strange things. They require taking the room's temperature, assessing everyone's mood, feigning intimacy, and knowing when not to ask a person about Taylor Swift. Laura Brown, fashion writer at Harper's Bazaar, had been doing just fine while pretending to be bedfellows with Kanye West and Kim Kardashian for the magazine's new cover story … until that last point. It's possible this interview was conducted before Kim launched her guerrilla attack on Taylor for all of Snapchat to see and Brown had no clue the grenade of a question she stepped on amid WWIII. Because between probing about how much Kanye thinks (he doesn't) and Kim's selfie strategy ("Kim not showing her body would be like Adele not singing," Kanye, the underthinker, says), Brown asked this:
LB: Favorite Taylor Swift song?

KW: For me? I don't have one.

KKW: I was such a fan of hers.
Kim was also such a fan of Harper's Bazaar …