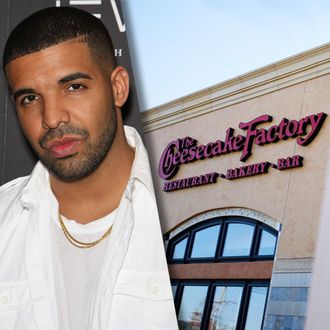 Perhaps the most memorable lines on Drake's marathon album Views came late in the third quarter, when the Canadian rapper launched the first verse on the 14th track "Child's Play" with a complaint to his significant other about her proclivity for starting fights in the restaurant known as the Cheesecake Factory, then proceeding to demonstrate his expertise in market demographics: a suburban mainstay like the Cheesecake Factory is a place for "families who drive Camrys and go to Disney." ("You know I love to go there," he adds.) Uncharacteristically for Views, Drake's complaints on "Child's Play" are playfully inflected: It's impossible not to sense the cheerfulness and affection in his voice as he refers, in rapid succession, to the CVS his woman (implicitly black) visits, the Kotex she purchases there, and the Bugatti that she hijacked to drive to CVS. The feeling is contagious, a refreshing dose of good humor in a generally dour (but also impeccably well-produced) collection.
Drake, it seems, has returned to his old stomping grounds in more ways than one. As Instagrams posted by Drake fansite Word on Road show, the Toronto artist has been spotted in Houston, his first adopted hometown: He's filming a music video for "Child's Play" in the city's famous V Live steakhouse/strip club, itself a location Drake has previously referenced in his songs.
He's not one to patronize only expensive establishments, though: Drake was also filmed on the way out of a Houston-area Cheesecake Factory after dining there with members of his entourage. It's tempting to imagine that the video for "Child's Play" will involve some action in the restaurant, but as with much regarding Drake, there's no way to be sure. But it would certainly be fitting in a video for a song which showcases the artist at his most charming, effortlessly satisfying both urban and suburban markets, to feature both the high-end strip club at the center of Houston's nightlife as well as a branch of an above-average unremarkable mall-adjacent family-friendly restaurant.