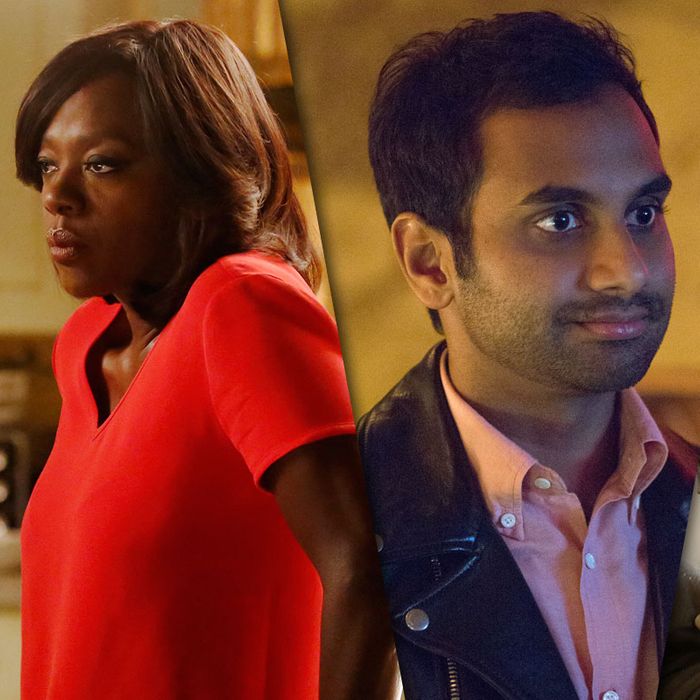 Last year, the Emmy Awards made headlines when Viola Davis, Uzo Aduba, and Regina King took home trophies, and this year's nominations seem to signal that 2015's milestones were no fluke: For the first time, actors of color appear in every leading actor category, and of the 73 actors nominated in the lead and supporting categories, 18 (or 24.6 percent) of the nominees are people of color. That's just above last year, when 16 (or 21.9 percent) of the 73 nominees were actors of color. And it's a huge leap from 2014, when only seven (or 9.7 percent) of 72 nominees were nonwhite. In overall Emmy history, only 8.69 percent of the total lead and supporting-acting nominees have been people of color, so this is a significant difference.
It isn't, however, necessarily indicative of the state of TV as a whole. There are plenty of popular and well-reviewed series with nonwhite casts and leads that were left off: Fresh Off the Boat, for instance, along with Jane the Virgin, Being Mary Jane, and even Orange Is the New Black — the former Emmy favorite earned only one nomination this year for its casting. But what's remarkable here is how much more recognition we're seeing of diverse talent in television compared to just two years ago.
Below, we've broken down some of the major takeaways on this year's ballot.
Drama is the least diverse category: Only three (or 12.5 percent) of the 24 lead and supporting-drama nominees this year are people of color, the same percentage as last year, though better than the 4.2 percent the year before.
Comedy is a little better: This year there were seven actors of color (or 28 percent) out of 25 lead and supporting-comedy nominees. That's up from 23.1 percent last year and 8.4 percent the year before.
The limited-series category continues to be the most diverse: Eight (or 33 percent) of the 24 lead and supporting miniseries nominees were people of color. That's slightly up from 30.4 percent last year and 16.7 percent the year before.
Rami Malek of Mr. Robot is the first nonwhite dramatic lead to be nominated in the category since 2001. Andre Braugher was the last person of color to win in the category, for Homicide: Life on the Street in 1998.
Tracee Ellis Ross is the first actor of color to receive a nomination for Lead Actress in a Comedy Series since 2008.
America Ferrera was the last person of color nominated, for Ugly Betty in 2008 (which she also won in 2007). Before that, the last person of color to be nominated in this category was Phylicia Rashad for The Cosby Show in 1986.
The last person of color to win an Emmy for Supporting Actor in a Comedy Series was in 1979.
That distinction went to Robert Guillaume for Soap in 1979. Notably, there are three nominations in the category this year — the most ever! The noms went to Andre Braugher for Brooklyn Nine-Nine, Tituss Burgess for Unbreakable Kimmy Schmidt, and Keegan-Michael Key for Key & Peele. 
There have been no nominations for actors of color for Supporting Actor in a Drama Series over the past three years.
The last person of color to win in this category was Héctor Elizondo, for his role in Chicago Hope in 1997, while the last person of color nominated was Giancarlo Esposito in 2012 for Breaking Bad.
No actresses of color earned nominations in Supporting Actress in a Drama Series.
Uzo Aduba, who won last year for her portrayal of Suzanne Warren in Orange Is the New Black, was left out of the category this year.
Half the nominees for Outstanding Actor in a Limited Series or Movie are actors of color.
Cuba Gooding Jr. and Courtney B. Vance were nominated for The People v. O.J. Simpson: American Crime Story, while Idris Elba was nominated for the fourth time for Luther.
This is the first time two nonwhite comedies have been nominated concurrently since 1970.
Black-ish and Master of None were nominated for Outstanding Comedy this year — the last time two nonwhite comedies were recognized in the same year was when The Bill Cosby Show and Room 222 were both nominated in 1970. Unbelievably, the golden era of black sitcoms in the '90s yielded no nominations for those shows.