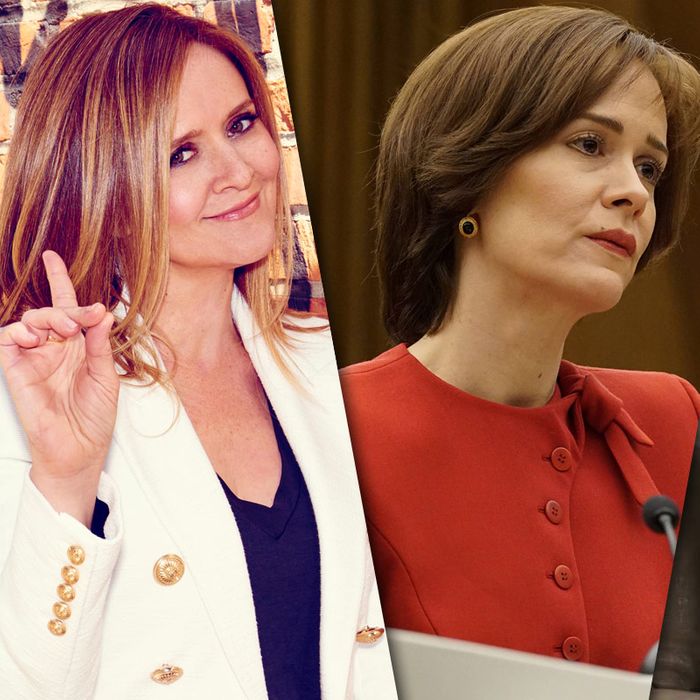 From left: Samantha Bee, Sarah Paulson in The People v. O.J. Simpson, Rachel Bloom in Crazy Ex-Girlfriend
Photo: TBS, FX, CW
Its been an interesting year for television, as the medium has continued to boom and grow in unpredictable ways. In the past year, HBO's star started to fade, while the CW has, some might say, the best show on TV right now. Mini-series gave us some of the most memorable stories and performances of the year, while critically acclaimed female- and minority-led projects saw a small but important uptick. On Thursday, we'll find out what the TV Academy thinks of it all when they announce the nominees for this year's Emmy Awards, beginning at 11:30 a.m. EST. Until then, here are some of the biggest questions surrounding this year's race.
Could HBO's 15-year run as the most-nominated network come to an end?
HBO earned a whopping 126 total nominations last year, including 24 just for drama series winner, Game of Thrones, and nine for comedy series winner, Veep. But this year is unique in that HBO doesn't have as many obvious contenders in the limited series, original movie, and documentary categories as it it did last year in winners Olive Kitteridge, Bessie, The Jinx: The Life and Deaths of Robert Durst, and Alex Gibney's Scientology documentary, Going Clear (which lost to Jinx). Limited series contender Show Me a Hero, by David Simon, earned critical acclaim, but didn't have the buzz of, say, ABC's American Crime, FX's Fargo and The People v. O.J. Simpson, and Starz's The Girlfriend Experience. HBO's 2016 original movie contenders All the Way and Confirmation may fare better due to generally less competition in that category, but Netflix's Making a Murderer (pretty much this year's Jinx) will likely be unbeatable for documentary series. Making things tougher, one of the network's perennial crafts nominees, Boardwalk Empire, ended and HBO's now-canceled Vinyl is officially an underdog (see below) while previous comedy nominee Silicon Valley faces newer critical favorites like Netflix's Master of None and Hulu's Casual, both of which have made recent showings on the awards circuit. This could all add up to a rare, more evenly distributed swath of nominations across the 2016 competition — the biggest pool of talent in Emmy history.
Just how much history could Crazy Ex-Girlfriend make for the CW?
Much like Lena Dunham's chances in her first Emmy race for Girls in 2012, Crazy Ex-Girlfriend's Rachel Bloom — who won the Golden Globe for lead actress in a comedy this year — was an early lock for an outstanding actress nomination this year. Also like Girls, CXG is a dramedy that manages to tackle mental illness, romantic dysphoria, fluid sexuality, and family dysfunction and the series was created and is run by two women — Bloom and Aline Brosh McKenna — whose partnership mirrors that of Girls' Dunham and Jenni Konner. For all these reasons — which may appeal to Academy voters looking to recognize female creators, and make the show more likely to resonate with women voters — CXG is poised to break through the lead actress and comedy series categories. Plus, there is also an excellent chance for the show to nab writing and directing noms like Girls did in its first year. (Fun fact: Fox's Glee was the last hour-long comedy in the Emmy race and creator Ryan Murphy took home a trophy for helming its music-heavy pilot in 2010.) Though many predicted the CW's breakout critical hit Jane the Virgin would be a favorite among voters last year, it failed to make a showing, making CXG's impact this year for the broadcast network — which has never earned any notable Emmy attention — potentially game-changing.
Will female-led series dominate the drama race for the first time in Emmy history?
When Showtime's Homeland won best drama series in 2012, it signified a meaningful milestone beyond that premium network's first-ever series Emmy win. Not since the mid-1980s, when CBS's Cagney & Lacey enjoyed a winning streak, had a series with a female lead character taken TV's top prize. Since then, the drama category has been dominated either by large-ensemble network series (E.R., The West Wing, Lost) or cable shows headlined by male "anti-heroes" (The Sopranos, Breaking Bad, Mad Men). This year marks an exciting showing for prestige, female-led dramas in Lifetime's UnREAL, Starz's Outlander, and Netflix's Jessica Jones and Orange Is the New Black (along with Homeland and less-likely contenders, ABC's Scandal and How to Get Away With Murder). With last year's winner, HBO's Game of Thrones, a lock for a nomination — whose large ensemble has neither a definitive lead actor nor lead actress — voters may be craving a shift in which series take on the fantasy epic, especially in a year when there have never been more female-led prestige dramas.
Do canceled shows like HBO's Vinyl and Fox's The Grinder have a chance?
Okay, there is some precedent for voters giving Emmy love to new shows that, by the time the announcements are made, technically no longer exist. But this phenomenon hasn't occurred in nearly a decade: Canceled after its only season, which aired between 2006 and 2007, NBC's Aaron Sorkin showbiz dramedy Studio 60 on the Sunset Strip earned noms for casting, cinematography, directing, and guest actor (Eli Wallach and winner John Goodman). There was also only one season of NBC's now-cult-classic Freaks and Geeks, but because its 18 episodes aired over the course of two Emmy races, co-creator Paul Feig was nominated two times for writing. And ABC's My So-Called Life ran for only one year, but still picked up noms for writing, directing, and for lead actress (Claire Danes). If history tells us anything, a freshly canceled drama like Vinyl stands to fare better than prematurely canceled half-hour peers like Fox's The Grinder and Grandfathered.
Will the late-night variety category see a female host nominated after nearly 20 years of no gender diversity?
Last year was the first in which the TV Academy finally and wisely divided the variety category into two separate races: late-night talk show and sketch. While this has done away with the inherent silliness of a show like Saturday Night Live competing against The Daily Show, it didn't do much for the incongruity that stills exists among talk shows in terms of format, number of episodes a week, and level of satirical content. It may not matter for Full Frontal's Samantha Bee, who has seen her once-a-week breakout TBS series easily join the ranks of — and often surpass — her male counterparts. With sharply produced, brazen segments on politics, women's issues, and gun safety, Bee could be the first woman ever nominated in the modern late-night era, and a deserving successor to the only other female show creators to win a variety series Emmy in the last 50 years: Tracy Ullman and Carol Burnett.
Which broadcast comedies aside from Crazy Ex-Girlfriend have a chance against their streaming competition?
There was but a single broadcast network contender — ABC's Modern Family — among last year's Emmy comedy series hopefuls. And at this year's Golden Globes, only one comedy series contender — HBO's Silicon Valley — wasn't a streaming series. While the HFPA's whims aren't necessarily those of the TV Academy, there has been a palpable shift in interest among all awards-show voters toward edgier, more genre-less comedy offerings like Hulu's Casual; Netflix's The Unbreakable Kimmy Schmidt, Master of None, and Lady Dynamite; and Amazon's Transparent and Mozart in the Jungle, to name a few. So which "traditional" broadcast series even stand a chance? ABC has two strong contenders in Black-ish and Fresh Off the Boat, both of which had stronger, more buzzed-about second seasons; CBS's four-time nominee The Big Bang Theory should never be counted out, and season two of Fox's The Last Man on Earth is that network's strongest contender; and if voters don't feel they've given enough love to the CW, Jane the Virgin certainly deserves another round of consideration.
How many actors from The People v. O.J. Simpson actors will actually get nominations?
It's hard to recall a recent limited series contender (or any contender, really) that boasts such a concentration of deserving lead and supporting actors than Ryan Murphy's adaptation of author Jeffrey Toobin's book, The Run of His Life. Of the actors for which FX actively campaigned, their categories break down thusly: Sarah Paulson (lead), Connie Britton (supporting), Courtney B. Vance (lead), Cuba Gooding Jr. (lead), David Schwimmer (supporting), John Travolta (supporting), Nathan Lane (supporting), and Sterling K. Brown (supporting). Paulson need not fear — she is a lock for the lead actress win. From there, it gets a bit tricky. Some may think that Gooding's role feels more supporting than lead; Travolta and Vance are the flashiest and most likely nominees; Brown is truly excellent, but not as well-known, so he could get overlooked; and Schwimmer and Britton didn't have as much screen time and may also not make the cut. Ironically, the series' biggest competition is another powerful piece about race in America this year — History's Roots reboot — which also boasts a sprawling, excellent cast. Voters can't go wrong if they are torn between the two, as no other contenders — across any category — are more powerful or timely.
How much racial diversity will we see among the series nominations?
On the heels of the 2016 Oscars diversity controversy, there is a bit pressure on the Emmys to do better. And based on last year, chances are they will: 2015 saw the largest number of black actors ever nominated — 18 total — across acting categories, and 16 actors of color nominated in leading and supporting roles, making up 25 percent of the total nominations. This year boasts even more new comedy, drama, and limited series contenders with on- and off-camera diversity: FX's The People v. O.J. Simpson, History's Roots reboot, USA's Mr. Robot, WGN's Underground, and Netflix's Narcos and Master of None, to name a few. And while some of last year's more diverse offerings were one-off TV movies (HBO's Bessie and Nightingale), there are a slew of returning contenders still on voters' minds including Netflix's Orange Is the New Black, the CW's Jane the Virgin, and a number of ABC series including American Crime, Black-ish, Fresh Off the Boat, Scandal, and How to Get Away With Murder. Shows previously mentioned that had strong second seasons — like Black-ish and Fresh Off the Boat — could also make history as one of the very few shows with predominantly nonwhite casts to be nominated. Unlike in the Oscar race, where maybe 20 total movies a year bubble up to a level where they're even able to campaign, there are actually enough series contenders from which to choose at the Emmys, where this is the year we could begin to see if last year's big showing is the start of a trend toward more diversity.