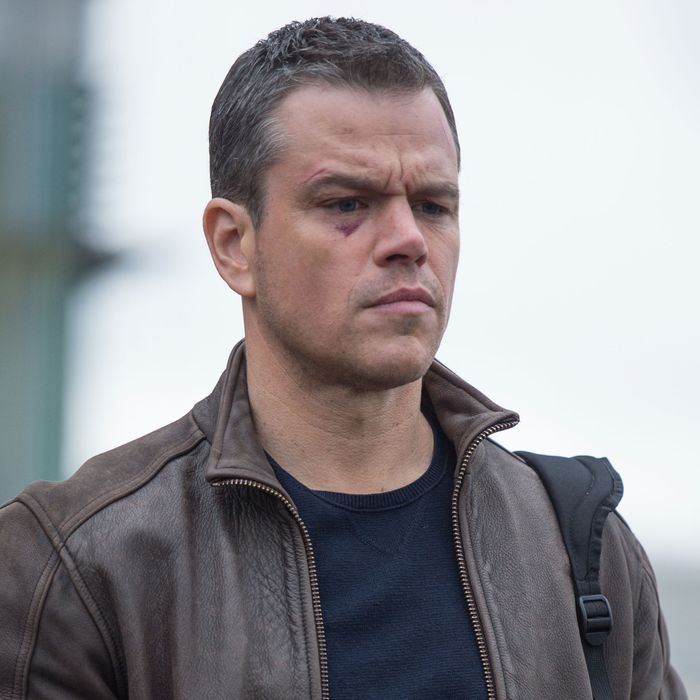 Mute Damon
Photo: Jasin Boland/Universal Studios
Earlier this month, The Guardian reported that Matt Damon only had about 25 lines in Jason Bourne. This raised some questions, since Damon plays the titular Jason Bourne. How could his character have so little to say? Does he take a vow of silence? Do a lot of solo kayaking? Did Bourne get Invisalign and become self-conscious about the way the aligners make his voice sound?
Turns out, Bourne is something of a tertiary character — his vendetta against Tommy Lee Jones's CIA director Robert Dewey often takes a backseat, both narratively and emotionally, to Dewey's rivalry with junior CIA analyst Heather Lee, played by Alicia Vikander, or Dewey's negotiations with young billionaire Aaron Kalloor, played by Riz Ahmed. And Bourne's relationship with Vincent Cassel's assassin The Asset is more about punching and driving cars through casinos than it is tearful disquisitions on life, love, and Cassel's great hair. Whereas screenwriter Tony Gilroy, who wrote the first three Bourne movies, treated the character as a case study in spycraft ethics, Jason Bourne director Paul Greengrass and editor Christopher Rouse, who together co-wrote this one, treat him as a bridge between set pieces. The set pieces are great.
So what does Bourne say? And what is he trying to say? Your faithful correspondents at Vulture have compiled the full list of Matt Damon's dialogue in the film. In reality, Jason Bourne has 45 lines of dialogue. That's 288 words (or about $86,805.55 per word, if you're into metrics), all of which we've transcribed and organized below for your Jason Bourne–cosplaying pleasure.
Most of the time, Bourne is here to ask the questions:
What has that got to do with me?
Watching me?
What's wrong?
It doesn't make any sense. Why?
Why?
Why was he killed?
Why!?
Who killed him?
Where is he?
Where's Dewey going?
What's Iron Hand?
Why would you do that?
What is it you want?
Though he also likes to take charge:
Stay low!
Hold on!
Don't move!
Everything on the table.
Open it.
Paddington Plaza, fifteen minutes.
Drive!
Let me out.
Let me think about it.
The next bullet's in your head!
We've gotta get out of here before the police cut off this part of the city.
You were never here.
He's a little fixated on his father, sometimes in the form of a question.

He was an analyst. He wasn't in operations. He wasn't near any of that stuff.
Beirut. I went there to tell him that Treadstone had approached me. But if that was his program, why didn't he say anything to me?
You followed me to Beirut, the last time I saw my father. Why would they have you follow me?
That was the day he was killed. They said he was killed by terrorists. He wasn't killed by terrorists, was he?
I volunteered because I thought our enemies killed him. I volunteered because of a lie.
And he's not great with women.
Nicky!
Hold on, Nicky! I'm gonna get you to cover.
They tracked you.
She's dead.
You exploited her.
Sometimes, he just needs to express himself.
I remember. I remember everything.
I told you, Christian Dassault is going to get you killed.
I'm coming.
I know about Beirut. I know what you did. It all ends tonight.
I'm not on your side.
I'll see you in Vegas.
I tried to find another way.
He can't, not for you.
But, at least he has a life philosophy …
Not to me it doesn't. All that matters is staying alive. You get off the grid, you survive.
… and a keen sense of irony?

This is Jason Bourne. I need to talk.