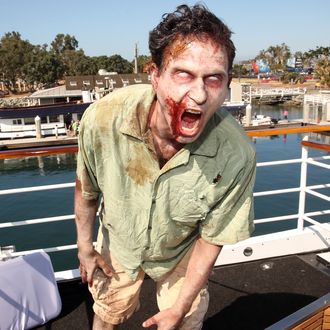 Photo: Jesse Grant/2016 Getty Images
AMC kicked off its two-hour-long block of zombie programming on Friday with a panel of the cast and creators of the network's Walking Dead spinoff, Fear the Walking Dead, at San Diego's Comic-Con.
For the second half of season two, FTWD will move from Los Angeles to Tijuana, Mexico, and all the heavy hitters — Kim Dickens, Cliff Curtis, Frank Dillane, Colman Domingo, and more — were at the panel to talk about where they hope to see their characters go, as they accept the terms and conditions of their newly apocalyptic landscape. While discussing the expansion of the universe beyond Southern California, special-effects guru and series producer Greg Nicotero said, "Once you get out into the world, similar to The Walking Dead, there's more danger and more threat. I think you're going to see both of our shows grow bigger."
Dave Erickson and Robert Kirkman, the show's creators, talked about how they've relished the opportunity to revisit the emotional fragility of a world freshly blighted by pestilence and death. The mythology is so deep at this point for the original series, they said, it doesn't leave as much time for ruminating on what it means to be human and what it means to die. Considering the narrative of FTWD from that philosophical perspective makes the show's move south of the border even more interesting, as it will explore the conversation around mortality through an entirely new cultural lens.
Of course, no Comic-Con panel experience would be complete without a jarring question from an audience member. Shortly after Kirkman and Erickson talked about how much Day of the Dead imagery would be used in the coming episodes (a lot), one adorable young fan named Sky stepped up to the mic to bashfully ask all the panelists, "If you guys were going to die a horrible death" — at which point she paused for an ominously long time — "on the show, what would you like it to be?"
Mercedes Mason had the boldest answer, saying that her character Ophelia "should just swallow a hand grenade and ruin everyone's clothes with her brain splatter." And while that would normally be a pretty grizzly answer to give a girl who looked no older than 12, Sky clearly came to this panel for the blood and gore. We're not so concerned about where Sky's parental supervisors were, so much as we're worried about where she hid their bodies.