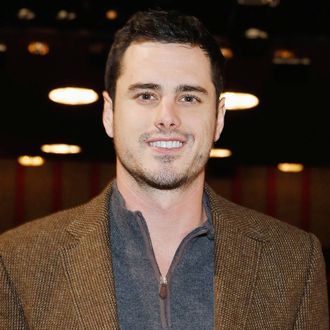 Oatmeal for Colorado House!
Photo: Getty Images
Update: That was fast. Ben Higgins said in a statement that he has decided withdraw his candidacy for Colorado's House District 4 after receiving "information that has made such a pursuit unworkable." His statement continues:
Due to unforeseen circumstances, I will not be able to move forward as a candidate. I find solace in knowing that our intentions and actions have been fair and sincere. I entered into this endeavor wanting to bring positive change to my community, and it is with that same spirit that I will move forward, albeit on a different path.
What that path could be is anybody's guess. Perhaps it's a spot on Dancing With the Stars?
Our original post from  July 21 appears below.
Ben Higgins's journey is not yet complete. After getting his heart broken on a reality show, returning to said reality show as the star, snagging the girl of his dreams, and plotting his own reality-show spinoff with his now-fiancée, Bachelor Ben is officially running for office in Colorado. Yes, less than a year after raising eyebrows by proving to be a halfway decent dude to a harem of 28 women on The Bachelor, Higgins is taking his talents to politics, entering the race for Colorado's House District 4 as a Republican. While the Denver Post notes that Higgins may be facing an uphill battle in November in the Democrat-heavy district, his record is pretty clean compared to that of Democratic incumbent Rep. Dan Pabon, who was sentenced earlier this week to one year of probation after pleading guilty to driving under the influence. Ben's only crime, meanwhile, is his immoderate use of the coveted phrase, "I love you." Now, if only Chris Harrison could be his campaign strategist.