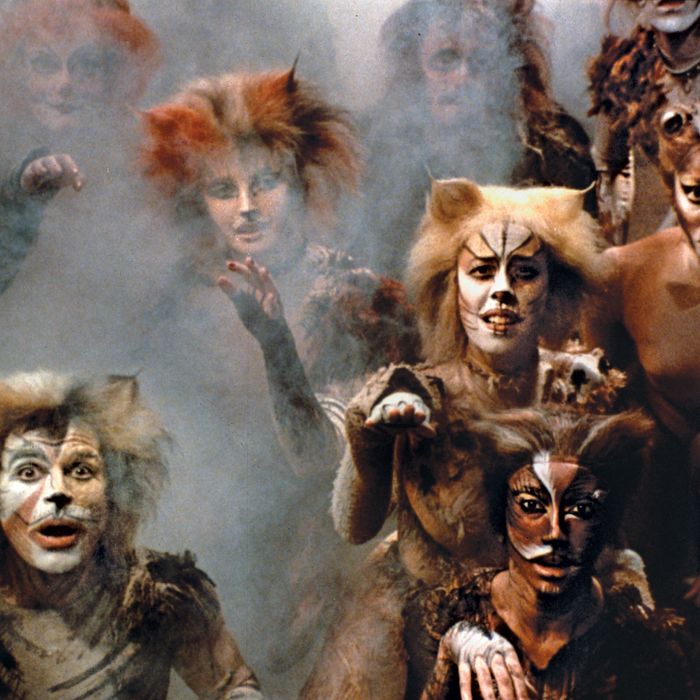 With Andrew Lloyd Webber's deathless crowd-pleaser returning to Broadway, seven former cast members recall the strange experience of learning to play a singing, dancing feline.
Bryan Batt
Munkustrap, national tour and Broadway (1991–92)
"I think partly because I'm a big guy, I got cast as a leading-man cat. I didn't lock myself in a room with cats to get in their mind-set, but I did learn specific movements — the way the spine arches and stretches. Offstage, I'd find that I was sitting and scratching myself like a cat. It was very odd."
Terrence Mann
Rum Tum Tugger, Broadway (1982–85)
"When we'd improv, there was a lot of crawling around on your knees, and I had bad knees. So I stood up a lot. There was always this posture; you had to stand on one leg with your other leg beveled away and your arms by your side and your hands in a claw position. You had to figure out how to stand like a cat."
David Hibbard
Rum Tum Tugger, national tour (1992–93), Broadway (1993–96, 1997–99)
"At the audition, they talk about being feral and strong, but it was later on that you'd have cat workshops. They'd roll a ball around, you'd talk about how to lick yourself. I ended up getting the Rum Tum Tugger role. And I did it for 2,197 performances."
Lena Hall
Demeter, national tour (1998) and Broadway (1999–2000)
"Sometimes your tail would fly off and just be chillin' on the stage. Wigs flying—all of a sudden there would be a bald cat. I remember there was a shared unitard for the swings. [A swing understudies multiple roles.] It smelled so bad. When I got a brand-new unitard, it was like, Praise the lord."
Bethany Samuelson Pettigrew
Sillibub, Hamburg Company (1991–92), national tour (1992–94), Broadway (1994–98)
"They gave us knee pads, and we'd have a rehearsal tail, a white braided tail, to give the feeling of weight on your tailbone. I met my husband doing Cats. He played Tumblebrutus, another kitten. I guess we had cat chemistry!"
Liz Callaway
Grizabella, Broadway (1993–99)
"Grizabella doesn't do much dancing, but she does perform in the opening number as another cat. I took great pride in working hard on that. I remember crawling around the stage doing cat exercises in rehearsal, and I sucked at it. Now, having lived with my beloved cat, Lenny, I might be better."
Kathleen Marshall
Swing and dance captain, national tour (1989–91)
"The set is like a jungle gym. You're jumping onto pipes and sliding on the floor. When I auditioned for other shows, my hands kept making claws. Like, What am I doing? The funniest thing about Cats was intermission, when you saw cast members in makeup smoking a cigarette."
*This article appears in the July 25, 2016 issue of New York Magazine.