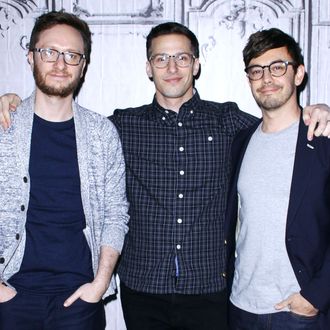 When can we expect a parody song about Freeform itself?
Photo: Donna Ward/Getty Images
The Lonely Island has produced a comedy pilot for Freeform, and we know what you're thinking: Finally, the Laser Cats will get the epic TV treatment they deserve. But this pilot is actually about two "overlooked millennial misfits" who "try to make their way into the vain and status-obsessed culture of Los Angeles only to find salvation in their male/female strictly platonic friendship." The millennials in question will be played by Esther Povitsky and Benji Aflalo, who are writing and executive-producing the pilot; Eben Russell is also writing and executive-producing the project. No word on whether it'll contain cats and/or lasers, but we are fully ready to sit here and wait.