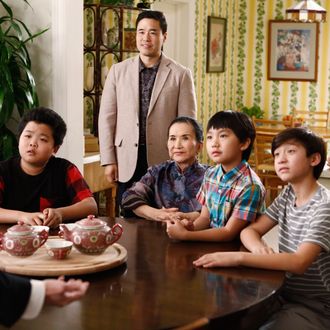 Remember the Chinese polite fight between Fresh Off the Boat's Louis (Randall Park) and his younger brother Gene (guest star Ken Jeong) in the second-season finale that resulted in Louis announcing to his family that they were going to Taiwan? Season three will pick up where the Huangs left off, with the family on vacation in Taipei for Gene's wedding.
But the action won't take place in a Hollywood back lot. The cast and crew will actually travel to Taiwan to film the season premiere next week. The three-day shoot will show off some of Taipei's landmarks, cuisine, and street markets.

"Knowing we were already picked up (thanks ABC!), we thought it would be fun to end season two with a cliffhanger that would set the table for us to start season three in a really epic way, with the family arriving in Taiwan," said showrunner Nahnatchka Khan. "It's also a callback to the pilot episode, where the Huangs arrive in Orlando, the quintessential 'fish out of water.' Now they're in Taiwan and, even though Jessica and Louis were born there, the boys weren't — they were born in America and have never been out of the country. It's that idea of not quite fitting into either place, of being both Asian and American. That's a really cool thing we're excited to explore."
Fresh Off the Boat returns to ABC on Oct. 11.