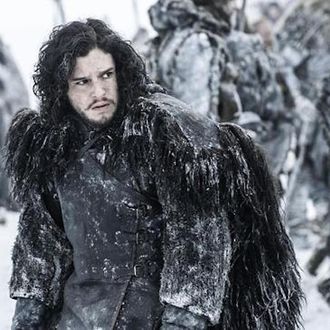 As Sansa Stark told Jon Snow in the season six Game of Thrones finale, "Winter is here." To accommodate the change in Westeros's weather, production has been pushed back. As creators David Benioff and D. B. Weiss explained on a recent podcast appearance, "'Winter is here' — and that means that sunny weather doesn't really serve our purposes any more. So we kind of pushed everything down the line, so we could get some grim, gray weather even in the sunnier places that we shoot."
It sounds like Iceland is going to be a major locale in the seventh season, as Game of Thrones news source Winter Is Coming reports that Icelandic news site Visir.ir broke the news about HBO employees' meeting with an Icelandic production company regarding shooting scenes in that country in January 2017. This wouldn't be GoT's first time in Iceland; the show has filmed in Iceland before, notably in seasons two and three, when Jon Snow ventured beyond the Wall.
Here's hoping the cast and crew have their wildling gear ready: This past January, the average temperature in the capital city of Reykjavík was –0.3°C (31.5°F).  Yup, that's about as "Winter is here" as winter gets.