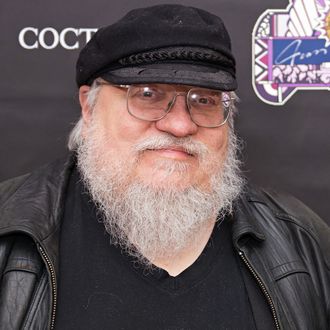 George R.R. Martin.
Photo: Steve Snowden/Getty Images
For the second year in a row, Game of Thrones got more Emmy nominations than any other series, collecting 23, including Outstanding Drama Series. As you might expect, George R.R. Martin is pretty pleased, writing on his LiveJournal that he was "thrilled and happy" for all the nominees. Still, he had some complaints: First, why did it take so long for the Television Academy to nominate Kit Harington and Maisie Williams, whom he called "several years overdue"? And though GOT did get three nominations in the supporting actress in a drama category, would it have killed them to throw Sophie Turner in there, too? "I know, I know," he says. "I'm greedy."
But lest you presume he's biased, Martin also thinks a bunch of Thrones' competition was unfairly snubbed. "Outlander was robbed," he told a fan in the comments section. (The Starz series received only two nominations, for production design and costuming.) "All three leads were amazing … especially Tobias Menzies in his double role as Frank and Black Jack. Eva Green also deserved a nomination for her work in Penny Dreadful." If The Winds of Winter features a Maester Aemmy who makes a bunch of bad decisions, we'll know exactly what happened.