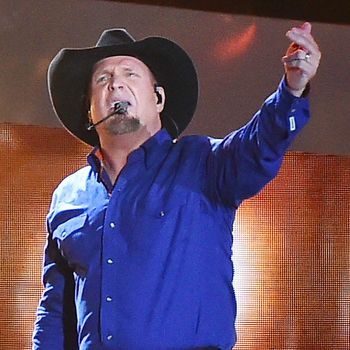 Garth Brooks performs at Yankee Stadium on July 8, 2016, in New York City.
Photo: Theo Wargo/Getty Images
The last time Garth Brooks played New York City, the Twin Towers still stood, and Williamsburg was a pale shadow of the luxury high-rise armada it is today. The year was 1997, and a free Manhattan concert stop as part of a three-year world tour drew hundreds of thousands to Central Park. The city's changed considerably since then, and so has Garth. He's no longer an unfazeable chart god able to push five million copies of anything he presses up; Brooks broke his stride on 1999's quixotic Chris Gaines project and a lengthy break between albums following 2001's Scarecrow. But though he lost steam on the charts, he remains a master of the stage, this time at Yankee Stadium, with a familiar mix of country hits, Billy Joel fan service, elaborate lights, hydraulics, and pure exuberance.
While new country kings aim for relevance by looking past Nashville into rock, pop, and hip-hop, Brooks remains something of a man out of time, as the title and warm heartland rock of his 2014 comeback album Man Against Machine bore out. Over a nearly two-year battery of shows since then, the singer has defiantly dug in his heels as elder statesman, criss-crossing the world with a career-spanning revue that posits Garth, man and music, as timeless. He doesn't play much that was written since 1995, but sticking to old hits means refinement. Garth is a gifted showman leagues more energetic than his age (a smooth 54 years old) and shape (cool dad) might suggest, as evidenced in unending jogs through his intricate elaborate stage's network of walkways and platforms. Crowd participation drills kept the audience lively in a set that didn't hesitate to drift off upbeat material into calmer waters.
Brooks's ease selling quiet reflection and rebel swagger via the same instrument is the cornerstone of his kingdom. You could feel it in the set list's carefree sway between rockers like the quick-tongued show opener "Ain't Goin' Down (Til the Sun Comes Up)" and era-defining country pop ballads "The Dance" and "The River." Throughout the night the singer's plainspoken emotionalism formed the fine point to his band of well-rehearsed old friends' powerful attack, particularly in the slow burn of elemental story songs like "Rodeo" and "The Thunder Rolls," but Brooks and band's true mettle showed its face as the night dragged on, and the weather got questionable.
Thunderstorms were promised all weekend, but it wasn't until the first chord of "Friends in Low Places" was struck late in the main set that rain finally arrived. If the steady trickle of water slicking the stage and everyone's clothes and instruments presented an occupational hazard, it never showed. Garth zipped through "Friends," and two more full-band numbers, soaking wet, and returned still doused in sweat and rain for a solo acoustic encore of latter-day singles, a Bob Dylan cover, and a spirited run through Billy Joel's "Piano Man." The rain, the stadium's bombast, the lateness of the hour, and a network of cameras filming every angle of the show all felt like props beside the world-class outsize charm of Garth.
All of this was met, for some reason, by hearty chants of "USA! USA!" from an audience peppered with American flag gear likely left over from July 4th. It was disorienting seeing Yankee Stadium, perched between the predominately black and Latin communities of Harlem and the South Bronx, nearly devoid of people of color and chanting patriotic slogans in a week that exploded into protests of shootings between police and minorities. In response, Garth offered the Man Against Machine peace plea "People Loving People," dedicating it not just to the police officers killed in the week's grisly Dallas shooting but also to those killed at Paris's Le Bataclan and Orlando's Pulse nightclub. The night's prevailing theme was love, between the artist and his fans, between the man and his band, between Garth and his wife, Trisha Yearwood (a powerhouse vocalist whose too-short set included powerful renditions of her hits "How Do I Live" and "She's in Love with the Boy" alongside a cover of the Linda Ronstadt version of the Everly Brothers' "When Will I Be Loved?"), and between humans across lines of race and country. The sentiment held from the stage-side pit to the nosebleeds, until we were turned back loose into the soggy summer night.