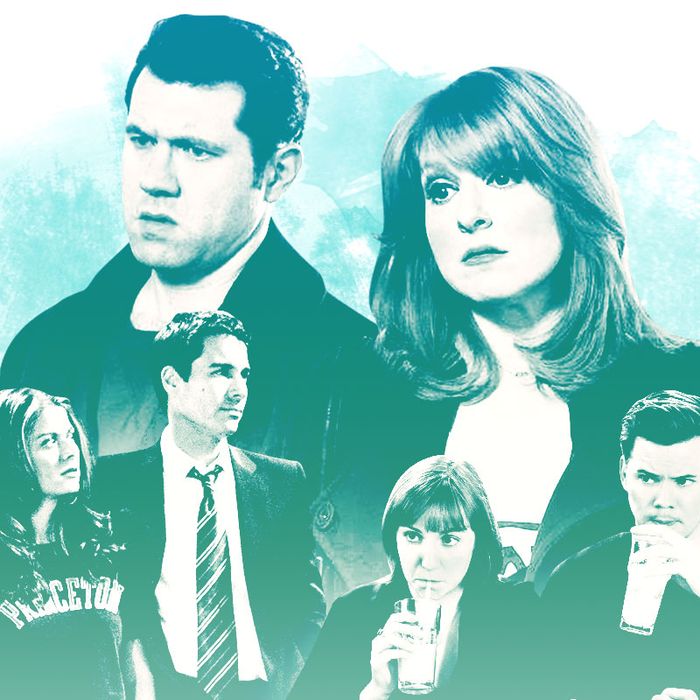 Photo: Kelly Chiello and Photos by Getty Images, HBO, Hulu
It's a tale as old as time: A gay man meets a straight woman on a TV show and friendship sparks fly. With the latest iteration of this all-important relationship, Difficult People — starring Julie Klausner and Billy Eichner — in the middle of its second season on Hulu, we decided to take a look back and trace its evolution on TV. Early on, the gay male was often presented as an afterthought on television (see: Coco, the gay houseboy on The Golden Girls never to be seen again after the pilot), or as accessories to the lovelorn female character (see: Stanford Blatch to Carrie Bradshaw). Whereas lesbians have been largely ignored in the cultural landscape, for decades gay men have served as wise, sassy sages, snapping in a Z formation and providing a sympathetic shoulder for women to cry on. But, as Dan Savage says: It gets better! Over time, gay men have become fuller, more well-rounded characters, and consequently, their friendships with women are more three-dimensional: They're equals more than they are appendages. Let's take a little tour through the most memorable straight-gay TV friendships from the past 30 years.
The Golden Girls, 1985
The friends: Coco and the Golden Girls
The relationship: The pilot episode featured Coco, a manservant cum houseboy who existed as a literal set piece for the women to interact with, and dressed like a fully clothed Agador Spartacus, Hank Azaria's character in The Birdcage.
The read: Coco doesn't really do much except stir a pan of enchiladas with a very limp wrist. And after the creators of the show realized that the Golden Girls could stand on their own, Coco was never seen again.
My So Called Life, 1994–1995
The friends: Ricky, Angela, and Rayanne
The relationship: Ricky Vasquez was friends with Rayanne first, but after Angela dyed her hair and ditched the normies to hang out with them, she joined the fold.
The read: Ricky, Angela, and Rayanne's friendship felt revolutionary for its time, and Wilson Cruz's portrayal of Ricky deserves more recognition. As the first openly gay teenage character on American network television, he opened doors for the rest of the teens on this list. His sexuality is not a plot device to further his relationship with Angela and Rayanne, but an important story line on its own.
Memorable moment: When Ricky's emotionally and occasionally physically abusive uncle kicks him out of the house, Angela and her family take him in, no questions asked.
The Show: Sex and the City, 1998–2004
The friends: Carrie and Stanford; Charlotte and Anthony
The relationship: Stanford is Carrie's trusted confidant, unafraid to call Carrie on her various transgressions. Anthony serves a similar purpose for Charlotte but, like, way sassier.
The read: Stanford is fully formed but exists as a secondary character, present mostly to dish up advice and catty quips. Anthony is a stylist who exists solely to fluff Charlotte's ego. Eventually, the two characters marry each other in Sex and the City 2 in a move that only makes sense because, naturally, two gay men who've spent time together always, always get married.
Memorable moment: Carrie improbably walks in a couture show wearing nude sequined underpants and a royal blue morning coat and trips. As Heidi Klum steps over her prone form, the camera cuts to Stanford, who proclaims her "fashion roadkill."
Will and Grace, 1998–2006
The friends: Will and Grace; Jack and Karen
The relationship: Will and Grace have been friends since college. She dated Will in college (a popular trope) and is positioned as the slovenly, neurotic foil to Will's smooth high-performer. Jack, Will's flamboyant best friend, met Grace's functionally alcoholic design assistant, Karen, and the two have been besties ever since.
The read: The friendship between Will and Grace laid the groundwork for almost every other gay male–straight female friendship depicted in popular culture — see Michael J. Willett's role in the not-very-good 2013 movie Gay Best Friend and the relationship between Sasan (Zachary Quinto) and Tori Spelling in So Notorious, the VH1 sitcom based loosely on Spelling's own life. Jack and Karen's ecstatic friendship is similar to Will and Grace's, too, but it's played primarily for comic relief more than anything else.
Memorable moment: In the episode "Das Boob," Grace's water bra springs a leak at a very important gallery opening and the beautiful bit of physical comedy that follows is the perfect representation of why their friendship works.
Dawson's Creek, 1998–2003
The friends: Jack and Jen
The relationship: Jack dated Joey first, but then realized that he was gay. Naturally, since Joey was busy with other things — namely Dawson, Pacey, and rowing that boat to shore over and over again — Jack bonded with Jen because outcasts have to stick together.
The read: Why do so many of these friendships start with misguided romantic interest? Regardless, after Jack comes out, he and Jen become best friends and even follow each other to "Boston Bay College," which is most likely a stand-in for Emerson College, an artsy liberal arts school in Boston full of theater majors and would-be novelists. Jack and Jen are two misanthropic peas in a pod, like a sadder and angstier version of Kurt and Rachel from Glee.
Memorable moment: In a move straight out of a yet-to-be-written Nicholas Sparks book, at the end of the series, Jen's "weak heart" finally betrays her. She leaves her best friend Jack with something that every 25-year-old man surely wants: a 1-year-old baby named Amy.
Queer As Folk, 2000–2005
The friends: Debbie and everyone else on the show, basically.
The relationship: Debbie is the mother of one of the protagonists, Michael, and on just about every count they are very — maybe uncomfortably — close. She runs the Liberty Cafe that functions kind of like Central Perk, but covered in rainbows. She's super chill about homosexuality.
The read: Before anyone self-identified as an ally, there was Debbie Novotny, PFLAG mom and proud wearer of rainbow vests and shirts. She's comic relief, but she also represents an idealized version of a parent with a gay son: supportive, bawdy, and loving.
Memorable moment: Debbie gladly opens her house to her son's friends, providing a safe haven for those whose parents are less accepting than her. Nothing shows her generosity of spirit more than the slightly after-school special moment when she finds Justin's art in the trash and talks him into following his dreams as an artist.
Degrassi: The Next Generation, 2001–2015
The friends: Marco and Ellie
The relationship: Ellie misinterprets Maco's interest in the Edward Gorey book she was reading as romantic interest, but because Marco wasn't 100 percent sure of his own sexuality, they "date" for a while. When Ellie presses Marco to go further, they eventually kiss. He then comes out to her, and she agrees to be his beard for a spell, but he eventually comes out.
The read: Because Degrassi is an earnest show for teens, Marco's sexuality is treated with the kind of consideration most other shows lack. He's a fully formed person with his own story lines and is never seen as an accessory or an accomplice.
Memorable moment: Ellie reaches her breaking point as Marco's beard and tells him she won't do it anymore, leaving Marco to figure out how to handle his sexuality by himself.
Gossip Girl, 2007–2012
The friends: Eric van der Woodsen and Jenny Humphrey
The relationship: United initially as outcasts and then divided by Jenny Humphrey's bad eyeliner and social-climbing ways, Eric started out as Jenny's friend and stuck by her side until he realized she was turning into a monster.
The read: This started out feeling like a real friendship based on their shared status as social pariahs, like Kurt and Rachel on Glee but with more social climbing and class anxiety. Eric stood by Jenny long enough for her to realize that he was more useful to her for access than actual friendship.
Memorable moment: Eric's boyfriend Jonathan accidentally starts a feud with Jenny and her friends, which ends with Eric getting splattered with yogurt.
Glee, 2009–2015
The friends: Kurt and Rachel
The relationship: Hummelberry started out as frenemies competing for the honored title of the best Glee club singer and the attention of Finn. They eventually become friends, move to New York, leave New York, and finally, return to McKinley High in order to fulfill their destiny of running the Glee Club.
The read: They are the distillation of every high-school musical-theater enthusiast's friendship with their teenage partner in crime, but with more nuance than one would expect from a show about dorky theater kids who break out in song every five minutes or so.
Memorable moment: The "Diva-Off" between Kurt's upper register and Rachel's earnest singing face set to the tune of "Defying Gravity" at the end of the first season is the moment they realized they were stronger together.
Real Housewives of Atlanta, 2008–present
The friends: Miss Lawrence, Derek J, and Sheree Whitfield
The relationship: Miss Lawrence and Derek J were brought on the show to serve as Sheree's friends, confidantes, and erstwhile hairstylists.
The read: The Real Housewives haven't always been the most enlightened in their relationships with gay men on the show, treating them as set dressing rather than actual human beings. Both men left the show due to the Housewives' constant and insidious homophobia.
Memorable moment: Since Miss Lawrence and Derek J have moved on to better and bigger things, the best encapsulation of their place in the Real Housewives' ecosystem is their web series, Spill the Tea, in which both gentlemen sit in a Bravo-branded studio in bathrobes and, uh, spill the tea.
Happy Endings, 2011–2013
The friends: Max and Penny
The relationship: Max and Penny are intimately close, and inhabit a special world in which everything they do or say is uproariously funny to one another.
The read: Max is the least "stereotypical" gay man on this list: He's slovenly, lazy, and a total bro. Also, his codependent relationship with Penny borders on the unhealthy and dips occasionally into toxic territory, but that's probably the most realistic thing about it.
Memorable moment: Halloween episodes are usually hit or miss, but Penny dressed as a mother with Max as her child strapped to her chest in a Baby Bjorn with bonus interactive arms is the best Halloween costume of all time.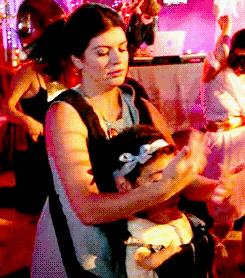 Girls, 2012–present
The characters: Hannah and Elijah
The relationship: Hannah used to date Elijah in college and found out he was gay after he came out to her over drinks in the first season. He and Hannah later reconnect and move in together after Marnie moves out. His relationship with Hannah has a ride-or-die ethos to it.
The read: Elijah is the moral center of the show, unafraid to tell the titular girls precisely how and why they are the way they are.
Memorable moment: When Elijah presciently called Hannah's father gay all the way back in the first season after unceremoniously coming out to Hannah and leaving.
Unbreakable Kimmy Schmidt, 2015–now
The friends: Titus Andromedon and Kimmy
The relationship: Kimmy Schmidt was sprung from an underground bunker and moves in with Titus in Brooklyn.
The read: Kimmy doesn't understand anything and Titus, who hasn't lived in a bunker, knows a thing or two. For the first season, he mainly functions as Kimmy's introduction to the world, but in season two, Titus gets his own story lines, including a boyfriend. As it grows, their relationship begins to show reciprocity — an image of what an actual, healthy friendship can look like.
Memorable moment: While Lillian may have been manning the camera for Titus's seminal work, "Peeno Noir," without Kimmy working as Jacqueline's best friend/servant, there would be no opulent setting for this music video.
Orphan Black, 2013–2016
The friends: Felix and Sarah Manning
The relationship: Felix and Sarah were both adopted by Mrs. S and spent their teen years running amok in London. Sarah finds out that she's a clone. Felix does whatever it is he can to help her deal with this.
The read: Sarah and Felix begin as siblings bordering on friends, but he seems to have evolved from fully fledged character to fall guy for everything Sarah and her sisters get mixed up with. Felix is there for every single clone for whatever they need, which is an awful lot of emotional labor.
Looking, 2014–2015
The friends: Doris and Dom
The relationship: Doris and Dom are high-school friends, roommates, and as close as two people can get without being in a romantic relationship.
The read: Doris and Dom are perhaps the best example of a gay-straight friendship on this list because they feel like real friends. Just about every interaction they have demonstrates how much they care about each other.
Memorable moment: Doris and Dom discussing a much-maligned chicken shack in what looks to be the worst Zumba class I've ever seen.
Difficult People, 2015–present
The friends: Billy and Julie
The relationship: Billy Kessler and Julie Epstein are best friends and aspiring comedians with strong personalities and an alarming lack of self-awareness. They like each other and don't really like anyone else.
The read: Billy and Julie are friends because they have the same interests and disinterests. Nothing about Billy's sexuality feels like it's played for a joke and Julie is just as "difficult" as he is, so they're on equal footing.
Memorable moment: Watching Billy and Julie walk down the street in the opening scene of the pilot and listening to their non-stop commentary felt like eavesdropping on the perfect conversation.