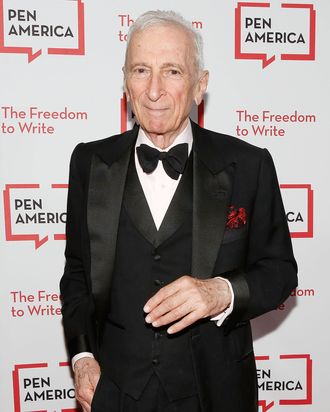 Photo: Taylor Hill/Getty Images
While Gay Talese was away for the July Fourth weekend, a large piece of masonry fell through his ceiling and destroyed part of his desk. "If I'd been home, we wouldn't be talking right now," says Talese, as he guides me into "the bunker," the windowless basement of a five-story Upper East Side townhouse he shares with Nan Talese, his wife of 57 years, who is a well-known book editor. Down here in the journalist's cream-colored, document-filled workman-cave, there's a crater in the table where he wrote The Voyeur's Motel, a book whose credibility cracked open at roughly the same time.
Talese, 84, has made a proud career of immortalizing rascals, from the Bonanno crime family to the antihero of "Frank Sinatra Has a Cold" and the adulterers of the swinging '70s (himself included) in Thy Neighbor's Wife. Gerald Foos, the voyeur of his new book, was an Aurora, Colorado, motel owner who spied on his guests for years through custom-made vents in the attic. After three decades of correspondence, Foos finally allowed Talese to use his name in 2013, and the book proceeded quickly by Talesian standards. Then the crumbling began.
In early April, the same week The New Yorker ran an excerpt, Talese was publicly shamed for saying at a Boston University conference that no female journalist had inspired him (and for asking a black Times magazine writer how she'd gotten her job). Media critics questioned the ethics of the New Yorker article, and two weeks ago, the Washington Post's Paul Farhi revealed factual discrepancies in the book, which is out this Tuesday. It turned out Foos didn't own the motel between 1980 and 1988, when Talese has him continuing to report on sex, crime, and marital strife. Foos claimed to have witnessed a murder, but there's no record of it. Talese responded by disavowing the book: "How dare I promote it when its credibility is down the toilet?" The day after the Post's piece was published, he reversed himself: He stood by his reporting and the show would go on, beginning with our promotional interview.
Upstairs in an elegant ground-floor parlor are Nan and two visibly nervous representatives of Motel's publisher, Grove Atlantic. They join us briefly as we climb three steep flights of stairs to another office. "I don't sleep here, but I can pull this out," he says, indicating a striped couch. "I haven't done that in many years." He alludes to fights with Nan, which peaked in the aftermath of Thy Neighbor's Wife. In the course of an almost uninterrupted half-hour monologue, Talese explains that "this thing that I'm going through now is a picnic, a waltz in the park," compared to those dark days in the '70s. Researching Wife, he had an affair, participated in orgies, and managed a massage parlor. Years before it was published, he was pilloried as "an obscene person, this slimy, adulterous, disgusting guy." He earned a record $2.5 million for film rights and "the worst reviews of my life."
In 1980, Talese received a letter from Foos, who offered to supplement the soon-to-be-published Thy Neighbor's Wife with "important information" from his own research — the nightly goings-on at the Manor House Motel. "But I wanted to get away from sex," says Talese. "I wanted out of my marriage, I wanted out of New York, I wanted out of places where I'm gonna be called a shitty man, a bad father, a bad husband … I didn't want to be smeared anymore. I wanted to clean up my act. This little dago's looking for respect."
But ever since childhood, when Talese learned that his uncles fought for Mussolini, his instinct was to chase the disreputable. He fondly remembers gangster Bill Bonanno babysitting his two daughters. "That's called being too close to your sources. I'm in bed with the enemy because I'm sometimes identifying with the enemy. My origins are fractured, and all the stuff I've done since is fractured." So his curiosity about the voyeur got the better of him. "He said he's got a motel. I said, 'This guy's bullshitting me,' and I go down there and find out he's not bullshitting me." On his four-day visit, "I saw pretty much what he saw" — a little sex and a lot of tedium.
But Foos had made him sign a confidentiality agreement. "I don't have a story without a real name," says Talese. While he received photocopies of Foos's journal and the occasional letter in the mail, he was deep into other work. "Don't think I'm thinking about the voyeur one lick," he says. "I don't want a pen pal." He wasn't busy checking real estate records or police reports. "I didn't know he sold the motel," says Talese. "He didn't tell me that, but then why the hell should he have? I'm in foreign countries and I'm not writing about it."
In 2013, Foos, pushing 80, told Talese he was ready to go on the record. Talese contracted with The New Yorker for a piece. He also invited a documentarian to film one of his visits. "I wanted to have all our interviews on tape, about the murder, all this stuff that you've read," says Talese. "I thought when this goddamn article comes out, I might be subpoenaed as a co-conspirator, and I'm as guilty as he is and maybe I can't prove it. My little shirt-boards, how do you know they're not full of lies?" He takes a stack of scribbled-on cardboard squares out of his jacket pocket — makeshift notepads he's used for decades.
"Then I do the New Yorker piece," he says. "It was much too long, so they cut it and did a hell of a job." The book version makes liberal use of the journals, for which Grove paid Foos. Like the voyeur, Talese considers it first-draft sociology. "I mean, writing about men pissing in the sink. I piss in the sink. This is the first chronicle of human nature — forget Kinsey — that had men pissing in the sink."
Not every reader found it quite so enlightening; the mores of New Journalism met the golden age of the hot take. The story's critics had all read about the Twitter outrage over Talese's Boston comments, both onstage and in conversation with Times writer Nikole Hannah-Jones. He remains baffled by it. "I went to the Google alert and there are a million things there. And then phone calls, and I am bewildered. 'Misogynist, hating women.' I'm still snakebitten by that," he says. The voyeur article came out days later, "and I'm back to the Google alert. 'Talese is as guilty as this guy.' 'Coward.' So I have again to answer for myself. But the real problem is ahead."
Talese writes in The Voyeur's Motel, "I cannot vouch for every detail he recounts in his manuscript." He's just noted that, though Foos's diary begins in 1966, he didn't buy the motel until 1969. (Still, he references Foos's "1966" entries without comment.) He also acknowledges the lack of evidence for a 1977 murder Foos reported causing indirectly (by disposing of drugs) and then witnessing without intervening.
I ask Talese when he learned of these discrepancies. "The New Yorker had a fact-checker. They said, 'Where was this murder?' They put a detective on this —" he stops. "I don't know if I should talk about this. [Editor-in-chief] David Remnick doesn't want me to talk. Let me tell you this. The voyeur told me that the fact-checkers are bugging the hell out of him. I told him that's what they're supposed to do. In that way, I can't quarrel with the Washington Post." Both outlets were just checking up on his facts.
It's easy, after two hours with Talese, to understand how he could have disavowed his book and then reaffirmed it the next day. He vacillates rapidly between defiance and shame, submission and recrimination. He is, as he says, fragmented. But he has a consistent version of his interaction with Farhi, the Post reporter. When Farhi called to question Talese's facts, he asked if he'd heard of Earl Ballard, the man who bought the motel from Foos shortly after Talese's 1980 visit. "Shit, I should have checked the records," Talese remembers thinking. "Farhi checked the records. I thought, boy, anyone who goes this far is really out to get me." Talese says Foos wasn't planning on speaking with Farhi: "These people [the reps from Grove] said to the voyeur, 'Keep your mouth shut!' And they should have said that to me, because I seem to get my feet in my mouth."
"So then I called the voyeur," Talese continues. "I said, 'Listen, goddamn it, Gerald. I have a book coming out, I can't change anything and you told me lies. Earl Ballard was the owner of that place. Why didn't you tell me that?' 'Well I didn't think you'd want a story about two voyeurs in a dispute over real estate,' he responded. 'That's not gonna wash,' I said. 'Yeah, but I had the key,' he said."
According to Farhi's story in the Post, Ballard said he locked the attic and sealed up Foos's spying vents. This would contradict two later chapters in Talese's book. He wanted to talk to Ballard, so he did some bartering. "I called back Mr. Farhi and I said, 'I'm gonna tell the voyeur talk to you. But I want the phone number of Earl Ballard.' Because that Ballard thing — when I got emotional and disowned the book, it was because of that story." (Reached by email, Farhi confirmed that there was an "exchange of sources.")

Talese called Ballard and said, "Gerald told me that even though you owned the motel, he had access to it.' He said 'Yes, he did, that shit. And you know what? Half the time he was in that motel I didn't even know it.'" Talese says that he has Ballard on tape admitting this — that Foos continued to access the attic. Farhi reiterated to me that while "there may have been some time that Ballard let Foos in after buying it, Ballard was pretty adamant that he was in charge and that he shut down the annex shortly after buying it."
In a joint statement with Talese on July 1, Grove publisher Morgan Entrekin wrote, "Grove takes the Post story seriously and will work with Talese to address any questions in future printings." One definite error is the notion that Foos's son lived in an apartment later occupied by Aurora mass shooter James Holmes. But as for the '80s material, "I swear by it," says Talese. And the murder? Talese wonders why Foos, a vain man, would make up the cowardly and possibly criminal act of passively watching a woman's death by strangulation. "Why do I not think he faked it? I can't prove anything. But no reader will like Foos, and this is the one story that really does the job on him. A sordid, duplicitous guy."
Talese will not say the press is being too hard on him, acknowledging that "Good journalists dig." He reminds me that he wrote a book about the Times (The Kingdom and the Power) — "400 critics in the building, and they didn't charge me with getting facts wrong. Now suddenly the Washington Post says 'You got your facts wrong.' That is not happy news to me. That sets me off into a great sense of despair, humiliation. But I wasn't Jayson Blair. They compared me to fucking Rolling Stone." [Two years ago, that magazine ran a story about a rape at the University of Virginia that later fell apart.] "You think I like that? I don't."
There was a time, I suggest, when journalists got away with more. "Maybe I was a liar in Kingdom and the Power, and I wasn't caught. But I'm saying I didn't! Look, my publisher, they don't want me to talk. But I try to tell the truth and I told the truth in Boston by saying 'No,'" when asked about female inspirations.
Even if Foos did have continued access to the attic, he still told Farhi he stopped spying for good by 1984, which means his second wife, Anita, couldn't have collaborated, as stated in the book. On this, Talese goes back to his records: "She is an accomplice and she tells me this on tape for the film." So, I ask, there will be no major amendments to that part of the book? "No. No no no no. That four-year period when the voyeur was sneaking in and out — and even if he wasn't — my story is done before that tale. I don't know what to change!" It's just Foos's narrative, then, the character study of one creepy guy? "I'm the creepy guy," says Talese. "It's a self-character study."
By now we've spoken a half-hour longer than planned, and a Grove publicist comes in to call time. "Fine, we're all done," Talese says, before adding to her, "But I want to tell you something.
"You're gonna tell me tomorrow, whenever you read this guy's stuff: 'See I told you, keep your fucking mouth shut, and don't try to explain.' But I'm sorry. Kill the interviews from now on — and you could. This might be the last one. I don't care. I'm sick of having to be both honest and have to shape up to this PR level of being careful. I'm not careful. If I was careful I wouldn't have written anything at all."