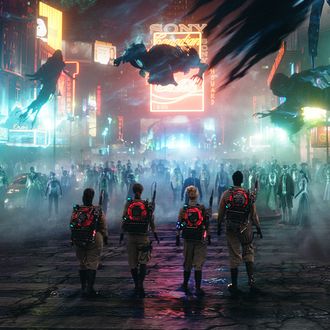 Photo: Courtesy of Sony Pictures
Who you gonna call to watch Ghostbusters with in China? No one, apparently, because the film's been denied a release in the country. This does not bode well for Feig & Co., as China's the second-most-prosperous film market in the world. As outlined by The Hollywood Reporter, China's censorship guides for films strictly prohibit anything that "promote cults or superstition," which stemmed from the Communist Party's secular ideology. This provision allows regulators to ban films that "feature ghosts or supernatural beings in a semi-realistic way," hence the verdict for Ghostbusters. However, one of THR's sources claim that the censorship problem wasn't the primary issue — rather, general interest was.
"It's been confirmed that Ghostbusters won't be coming to China, because they think it's not really that attractive to Chinese audiences," a Chinese executive said. "Most of the Chinese audience didn't see the first and second movies, so they don't think there's much market for it here." The original Ghostbusters was never screened in the country, either. If you want to (legally!) see Ghostbusters in America, it'll be released this Friday.