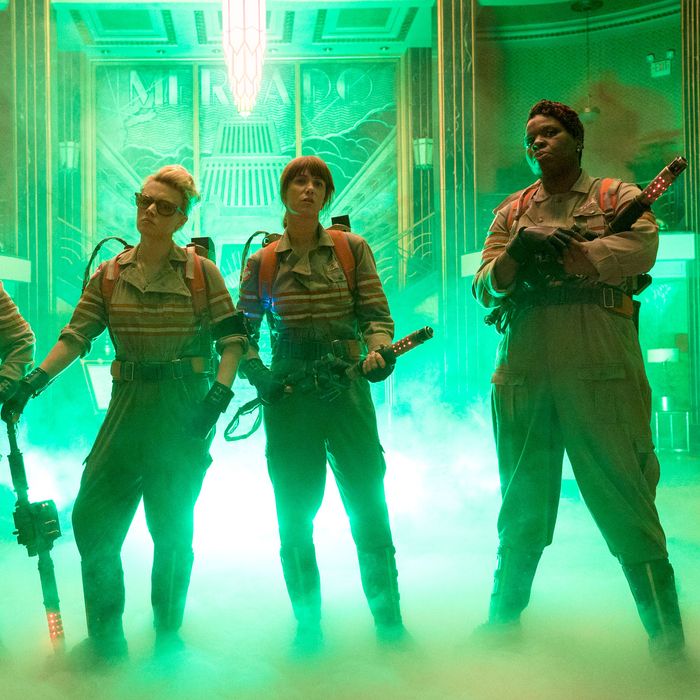 The Ghostbusters Abby (Melissa McCarthy), Holtzmann (Kate McKinnon), Erin (Kristen Wiig), and Patty (Leslie Jones) inside the Mercado Hotel Lobby, in Columbia Pictures' Ghostbusters.
Photo: Hopper Stone/© 2015 CTMG, Inc.
After all the troll-fueled hubbub, including a historically disliked trailer and studio support of the disdain, Ghostbusters finally arrived: no longer just a beachhead in the online gender wars, but a real movie in the real world, one that people can go pay real money to see. And while the hysterical post-Gamergate nightmare that was its lead-up often felt distracting from the movie itself, the truth of the matter is that Ghostbusters, despite its magnetism for controversy and inventive central concept, faced a bigger problem upon its release — one that has more to do with how it was positioned than the way it was conceived or executed.
To understand, let's look at both the good and bad news from opening weekend, both of which paint a full picture of a movie that may have been weighted with an unfair burden.
THE GOOD NEWS
There is good news, and it's very straightforward: Ghostbusters made $46 million this weekend. While that wasn't enough to top The Secret Life of Pets, which led the box office for the second straight week, $46 million is a great opening for a live-action comedy. It's the highest opening ever for both Paul Feig or Melissa McCarthy, the ninth-highest opening of the year so far, and if we consider Ghostbusters a comedy first and foremost, then it's the best first weekend of 2016 for that genre — topping Central Intelligence ($35.5 million), McCarthy's The Boss ($23.5 million), and Neighbors 2 ($21.7 million). You'd have to go back to 2014 to find a better comedy opening: 22 Jump Street made $57 million on its way to a $191.7 million domestic total.
In fact, it's hard to expect it to have done much better; for a comedy — which tend to play to a more limited audience domestically than superhero or animated movies and to a far smaller international audience — it performed very well.
But.
THE BAD NEWS
Here's the bad news: This movie cost $144 million after tax incentives and rebates. It had a P&A (promotional and advertising) spend rumored to be over $100 million. That puts the total amount Sony sunk into this movie in the $250 million range, which is … a lot for a comedy. Like: a lot. Box Office Mojo is predicting a total domestic run in the $135–$145 million range, which would barely be enough to earn back its production budget. And unlike similar openers from last year, like Mad Max: Fury Road and Hotel Transylvania 2, Sony can't rely on overseas audiences to significantly boost that number.
In hindsight, it seems absurd: Why would Sony spend superhero money on a comedy? Feig's track record is impressive, but it's impressive because he tends to make sensibly budgeted movies that deliver a significant return on investment: Bridesmaids, The Heat, and Spy cost $32.5 million, $43 million, and $65 million, respectably.
The answer resides in the Sony leak. Hundreds of emails leaked in early 2015 were related to the reboot of Ghostbusters. But the most interesting of them all — more interesting than their attempts to hire Christopher Lord and Phil Miller to do Ghostbusters 3; more interesting than the efforts to balance power between Ivan Reitman and Paul Feig; more interesting than the dozens of actors, writers, and directors who tried to get themselves attached to Ghostbusters — is one Amy Pascal, then co-chairman of Sony Pictures Entertainment, sent to Michael De Luca, then Sony's president of production, that frames everything in a much more understandable, if not entirely defensible, light: They were hoping Ghostbusters would be the basis of a Marvel-like universe for Sony.
There are other emails where they compare the franchise to Marvel and Star Wars as well, taking into account the idea of a unified mythology and the other Ghostbusters idea being developed by Channing Tatum, Reid Carolin, and Joe Russo that would also star Chris Pratt. If the Ghostbusters franchise was going to be Sony's Marvel, that would justify spending superhero money on Ghostbusters, the reboot that would have to kick the tires and light the fires for many more movies, merchandise, and other forms of media. And superhero money usually means budgets into the nine figures; in the Marvel Cinematic Universe alone, Disney's spent an average of $180 million on its 13 movies. Even Ant-Man, the comparatively cheap and fun entry into the MCU, cost $130 million, and Civil War and Age of Ultron both cost $250 million.
Which makes it a cold realization when you consider that the Ghostbusters opening is lower than any entry in the MCU yet — including The Incredible Hulk, which made $55 million on opening weekend. If you compare Ghostbusters to the film that launched the MCU, Iron Man, the picture gets even uglier: Iron Man made about double what Ghostbusters did in its first frame, taking in $98 million.
In fact, here are some of the superhero movies that have opened better than Ghostbusters: the 2005 Fantastic Four and its 2007 sequel; Ryan Reynolds's Green Lantern; Watchmen; Batman Forever; Superman Returns; and every X-Men movie, including The Wolverine.
On the bright side, Batman Begins only managed $48 million on nearly the same budget, and that turned out pretty well for Christopher Nolan and Warner Bros. But Batman Begins was a critical hit that received an A CinemaScore; Ghostbusters has been met with mixed reviews, and its B+ CinemaScore, while totally fine, doesn't signal the kind of passion that launches cinematic universes.
Again, for a comedy, Ghostbusters did quite well. But Sony didn't make Ghostbusters like a comedy. They made it like a superhero movie — and as a superhero movie, it's a disappointment. Not quite a disaster on the scale of last year's Fantastic Four, but still a major letdown.
Putting that blame on the shoulders of Feig and the cast would be a mistake; it would also be a mistake to blame the gender-swapping concept. The problem lies in the expectations. Cinematic universes are all the rage these days, but it takes a hefty piece of IP to support that kind of spend — either superheroes or dinosaurs or Jedi, basically. There's a world in which the Ghostbusters franchise blossoms into a beautiful ghost-tree, with sequels and spinoffs and Ghostbusters Go. It's just a world that will have to cost a whole lot less.