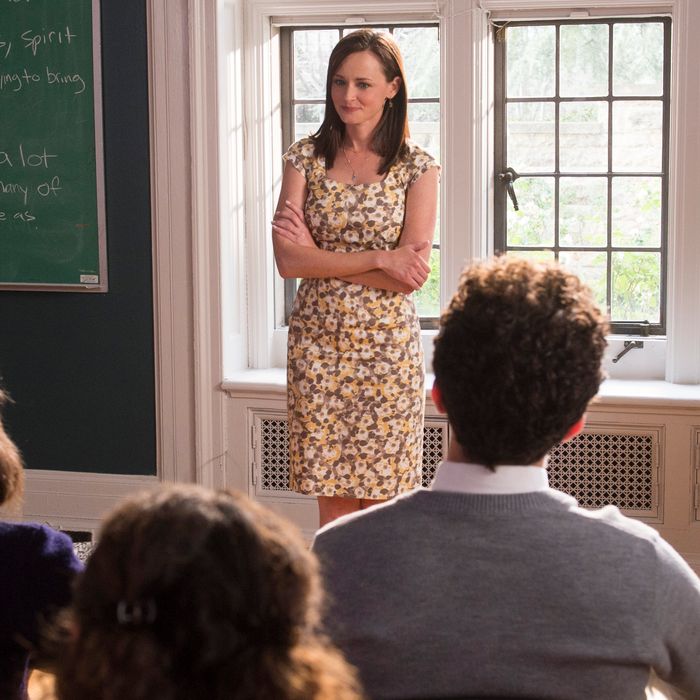 Class is in session!
Photo: Neil Jacobs/Netflix
Hold on to your coffee and tacos because several details about Netflix's Gilmore Girls revival were released Wednesday at the streaming service's Television Critics Association press day at the Beverly Hilton in Beverly Hills, California. As we've long known, the reboot will consist of four 90-minute-long "films," each covering a different season — spring, summer, fall, winter — and practically everyone will be back. Ahead, read all of the new things we learned ahead of its Thanksgiving premiere, perfectly timed for all of your food comas.
You can binge-watch it, but creator Amy Sherman-Palladino isn't happy about it.
This Thanksgiving weekend will offer some form of family bonding, even if you have to live vicariously through Lorelei and Rory Gilmore. The four 90-minute episodes of the revival, each of which are themed under the individual seasons mentioned in title song "Where You Lead," will hit Netflix at 12:01 a.m. on November 25, 2016. Naturally, the digital channel also released a quirky promo teaser showing that the mother-daughter power couple played by Lauren Graham and Alexis Bledel haven't lost their wit since the show went off the air in 2007.
"I told [Netflix] I was going to hang myself from a shower curtain if they put them all out," Sherman-Palladino says. "They said, 'Can we help you with that?'"
Don't skip ahead to catch those last four words.
Gilmore Girls is a dish best served in full courses, and Sherman-Palladino advises against skipping to the last minutes of episode four just for the end quote (we have our own ideas on what they'll be). "It really is a journey leading up to the last four words," she said. "It's really going to mean a lot more if you've taken the journey. It's going to mean a lot less if you skip to the last page. That being said, what can I do? I would hope the people would want to take the whole trip."
Lauren Graham had no trouble flipping her Lorelei switch back on.
"It was easy, it was joyous, it was fun, it was exhilarating, it was the old show, there was no sense of having to resuscitate something," she said, adding that the show's infamous rapid-paced wit is "my favorite thing to do — it's my favorite part of this show."
What about the Gilmore Guys?
Scott Patterson, who plays curmudgeonly diner owner Luke, was at the panel, swapping a backward baseball cap for a jet-black cowboy hat. Both he and Graham were mum about what this means for their characters' on-again/off-again courtship. "She does have a love life; not all the questions have been answered," says Graham.
Alexis Bledel confirmed that all of Rory's ex-boyfriends will appear in some way on the show — we'll just have to wait and see exactly how. "It was great to work with all of them," she says. "All of the people's questions will be answered, but we can't answer them today."
The greatest Gilmore Guy will also get some respect.
Edward Herrmann, who played Richard Gilmore and died in 2014, will be reflected in the series. "In the wake of losing Ed, it was also part of our story that we were telling, how everyone's recovering," says Graham. "That gave the show a depth and emotional complexity that just felt like 'here's the show grown up' that plays into all the choices the characters are making. In dealing with that, [Lorelei] makes some [romantic] decisions."
There is no McCarthy hate among the cast and creator.
Sherman-Palladino says that she had always intended for actress Melissa McCarthy, who played ace chef Sookie St. James, to return to the series. It was just hard to nail down a date since she's a movie star now.
"We knew that we were going to figure it out. It just took on this weird life of its own," she says. "It's an age of ugliness, and how do we stir up bad feelings, and it got this weird sheen on it." Sherman-Palladino said that Graham and McCarthy have a "Lucy and Ethel thing," and that was evident from the moment McCarthy got to set. Graham added that she "would have felt a gap in what we were trying to do" if her character's bestie and business partner hadn't been included. "The fact that she got to come almost near the end [of filming was] incredible."
You only have yourself to thank for the series' return.
Patterson says the fan reaction at the show's reunion panel during the 2015 ATX Festival made them realize there's a market for the show, even though Sherman-Palladino denied a movie was in the works at that time. "Fans were lined up around that venue all day in 100-degree heat," he says. "ATX really drove it home to all parties involved that it could work."