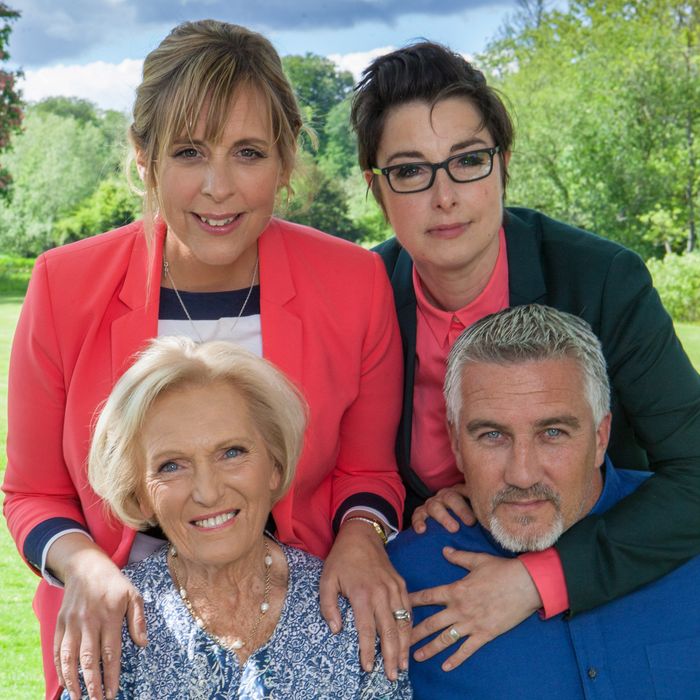 Mel Giedroyc, Mary Berry, Sue Perkins, Paul Hollywood.
Photo: Mark Bourdillon 07831605033/© Mark Bourdillon
It's bread week! Bread week is the most mystifying and exciting time on The Great British Baking Show. Why? Because bread making is akin to magic and the proofing drawer will basically make or break your chances in this competition. Let's get right into it.
The signature challenge this week is quick breads! Quick breads seem fun because, yes, they're "quick," and also because you don't have to understand much about yeast and flour and rising and punching. You just throw some buttermilk and some baking soda together with a bunch of whatever else you have lying around … and there you go! Quick bread.

As Paul Hollywood and Mary Berry make their rounds, it's clear that the Male Judge's itinerant "charm" is starting to wear off. Paul is possibly the Star Baker of the world — or at least the United Kingdom — so it makes sense that bread week is especially cruel, but I'm over Paul being a dong for the sake of being a dong. That's television, I suppose.

Anyway, yes, all the bakers are quickly making quick breads. Almost everyone's bread has a wild assortment of ingredients that don't feel like they belong in bread of any sort. Mat With One T and Nadiya are making a "Mexican"-inspired soda breads, the former using smoked salt, jalapeño, and Mexican cheddar (what?) and the latter with cumin, coriander, and a warm tomato salsa. It's a pizza. It's a weird pizza, minus the cheese and the fun. Dorret tries to make a Waldorf salad, but in bread. Alvin puts prosciutto, manchego, basil, and balsamic onion in his soda bread, so it's essentially a charcuterie board. Other Paul's bread is boring. Ugne's bread is weird because Ugne is weird yet lovable and has never met an electric-blue eyeliner she didn't like. It's chocolate with a salted-caramel sauce. And Ian, whom the judges appear to be obsessed with, must have a lot of time on his hands: He foraged wild garlic, brought it to the tent, and made a garlic-pesto bread that, naturally, is the best of the bunch. The Male Judge loves it so much that he gives Ian a hearty handshake. If Paul Hollywood deigns to touch your mortal flesh, that means you've done something very right or very wrong, depending.

The technical challenge seems somewhat simple this time around, but it's apparently hell on Earth to make a baguette. More specifically, four identical baguettes, all correctly shaped, with good color, and a nice hollow sound when you thump 'em on the behind. There's much talk of crust and crumb and the like. Also, since the Male Judge is nothing if not a sadist, I'm assuming the instructions are basically "flour, some water, some yeast, good luck LMAO."

Imagine if you were asked to make a baguette, but no one told you what to do with the giant piece of stiff French linen that was presented alongside the ingredients. Imagine they only told you it was called a "couche" — pronounced close to "cooch," but slightly more refined — and that you needed to do something with it to make your baguette look like baguettes. Imagine if no one told you that steam was, like, pretty crucial to success.  Do you feel clammy? Congratulations! You're basically a contestant on the Great British Baking Show.

Everyone stress-bakes and then, while the dough proofs for an hour and change, they all sits around the tent staring at a kitchen timer and drinking tea. Everyone's dough looks giant and unwieldy, sort of like a bunch of blobfish. The shaping of the dough seems like a metaphor for life: Everyone just wings it and hopes for the best, but it all works out in the end. The dough goes into the couche, the dough gets scored with what appears to be a razor blade, and then the little loaves go back to bed to rest while the bakers scroll through Instagram or whatever.

Gingham altar time! Most of the baguettes are … not that awesome. Flora's is underproofed, but not by much. Dorret's are floppy, Ugne's merely fine, and Nadiya's are both soft and bad. Other Paul's are too fat. Alvin almost made ciabatta, but it tastes like a baguette. Sandy, bless her, didn't do the scoring right and her baguettes are too short and not crisp. From this end of things, it sounds like everyone should just go home, but that's not how the show works. Other Paul and Nadiya's floppy loaves find them both at the bottom, while Ian, somehow, rises to the top.

Frankly, this week's showstopper challenge is sheer lunacy. The bakers are tasked with making a 3-D bread sculpture in five hours. They must use three types of dough, one of which must be filled. I don't go to many fancy things, but I have never even heard of an event in which a 3-D bread sculpture is a thing. Nevertheless, the bakers have prepped for this event and are ready to go. Everyone gets super, super ambitious.

Tamal is making a bicycle, for Christ's sake, with Chelsea bun wheels and chai-spiced buns in the basket. Alvin makes what is ostensibly an entire bakery: five balsamic onion rolls, a pain de Provence, something involving wheat, and some other stuff all entombed in a giant dough cornucopia. Flora attempts the impossible — making bread look delicate and also like couture — with her strange corset-and-skirt situation. Sandy states quite plainly that design is at the bottom of her list, and presents to the judges a weird basket with blue-cheese poppies and pesto breadsticks. Nadiya's snake-charmer basket seems fine and the snake reminds me of Sir Hiss from Disney's Robin Hood, so she's a winner in my book. And Ian continues to prove just how much free time he must have at home by trotting out yet another bespoke baking mold to shape the petals of his brioche plant, baked in a flour pot made of a seedy loaf that he often whips up at home for his family. Must be nice!

Here are my three pressing questions: What in God's name was going through Ugne's head when she decided that a truffle-oil-infused brioche bunny covered in maple frosting was a good idea? Why did Dorret want to turn Tracey Emin's "My Bed" into a 3-D bread sculpture? And why wouldn't Dorret practice this ridiculous undertaking at home?!

At the end of this insane challenge, there are some winners and some losers, as always. For the first time ever in the history of the show, one person actually receives a special commendation. That person is Other Paul, who made a lion out of bread, with almonds for claws and eyes so realistic that they still haunt me and I watched this episode like a week ago. The lion is really and truly impressive, but not impressive enough to win. Star Baker for the second week in a row is Ian. Yay, Ian, ya—zzzzz. I'm sorry, I'm very tired.
We say good-bye to Dorret this week, but she doesn't seem too fussed. "It would've been nice to stay a little longer," she says. That's what you get for not testing your showstopper at home!

Next week, the bakers make "desserts." I can't wait to find out what the official definition of a "dessert" is!