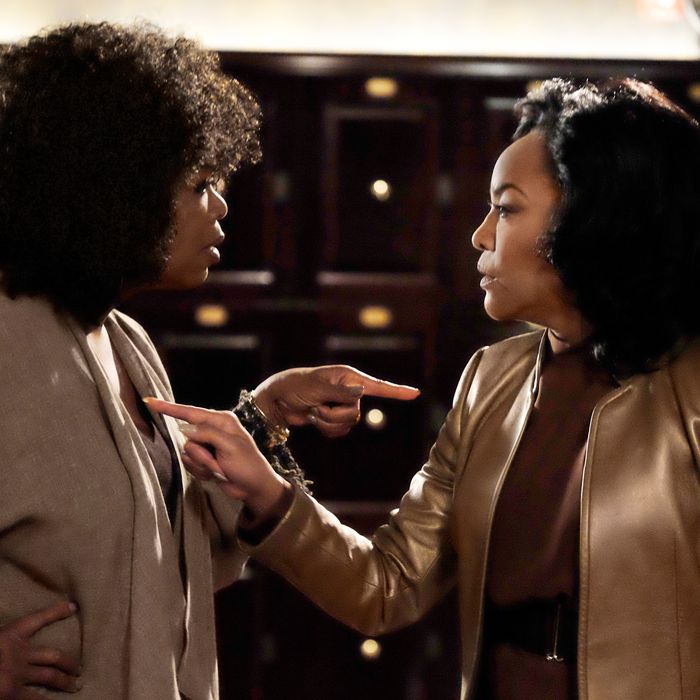 Oprah Winfrey as Mavis, Lynn Whitfield as Lady Mae.
Photo: OWN
Greenleaf picks up the pace in "The Whole Book." Mac may not be physically present in this episode after having been the main focus last week, but his presence looms as Grace finally finds more damning evidence against him. The simmering relationship between Grace and Noah boils over, scorching Lady Mae in the afterglow. Death has haunted the family since the show's beginning, and in "The Whole Book," it decides to take yet another victim, sending shocks throughout the Calvary community.
In some strange coincidence, all charges against the group of police officers accused of killing Baltimore's Freddie Gray were dropped on the same day that Greenleaf brings no charges against police officer David Nelson for the murder of Kenneth Collins. The disappointment and betrayal in each case, real and fictional, mirror one another. Rev. Skanks, the pastor at Triumph, Calvary's rival church, points fingers back at Bishop Greenleaf for throwing support behind Nelson and helping to ensure he got off. Bishop confronts Skanks, but his nemesis is slick with insults and practically vows to take Bishop down. Bishop leaves, shaken.
Later, Grace visits Nelson and tries to convince him to stay in Memphis. He wants to run away to Delaware, where no one knows him. Black Lives Matter protesters surround his hotel; he wants to fade into anonymity as much as he can. It doesn't seem like Grace has much effect on him, and when she leaves, it's apparent his fate is sealed. The following Sunday, when he greets Grace at church to tell her he's changed his mind and will stay, the brother of his victim approaches and shoots him at point-blank range. Even in such a heavy, disturbing moment, it's hard not to think about how Lady Mae and Mac will blame Grace for Nelson's death.
Along with other issues, the Black Lives Matter movement is frustrated by the lack of consequences for police brutality. Even if alleged perpetrators get indicted and go to trial, they are rarely sentenced to jail time. George Zimmerman continued to gain notoriety after being found not guilty for the death of Trayvon Martin. Police officer Darren Wilson, accused of fatally shooting Michael Brown, married in the midst of waiting for a grand-jury decision. That those accused of such killings continue to live satisfying lives is salt in a never-healing wound. In this episode, Greenleaf presents a special kind of extrajudicial punishment that can only happen in a fictional world. In the world of Greenleaf, David Nelson must pay for his crime, accident or not, one way or another. And it doesn't feel good. Gun violence creates a ripple of more and more pain. Instead of Kenneth Collins's senseless death, there is David Nelson's. The brother will surely be sent to jail, and the Collins family will have lost two sons. Time will tell how this will affect Grace and the rest of the Greenleaf and Calvary family.
In the middle of all this, Isabel and Noah are finalizing their wedding. She packs up all of her clothes from his place so they can avoid any more physical temptation, but Noah seems most concerned about ensuring she'll continue to give him oral sex after they've consummated their marriage the old-fashioned, God-approved way. Isabel can tell Noah is having some doubts, particularly with Grace around, so she turns to Lady Mae for counsel. Lady Mae assures Isabel that the cold-feet routine is nothing to worry about. She tells Isabel that even Bishop went through it, and Lynn Whitfield is amazing in this moment. As Lady Mae clearly recalls something painful, her eyes glisten and her voice deepens and she warns Isabel that men will "flip through their Rolodex of broken dreams and make you watch while they do it." Is it another hint that Bishop and Mavis had a fling? Lady Mae keeps dropping breadcrumbs that Bishop isn't a perfect man. We need to find out where they lead, once and for all.
With Noah's help, Grace finds out that Mac took Danielle to an abortion clinic in Nashville. Danielle doesn't want to go to the police unless Grace can find more victims — and she doesn't want her mother to lose the scholarship Mac helped her get. Grace pulls at that thread and discovers Mac has been bribing victims with scholarships and grants from Lady Mae's women's auxiliary fund. Armed with this knowledge, she turns to Noah for help. How can she expose Mac without implicating her parents?
Noah isn't sure, but he knows he still has feelings for Grace, feelings that Grace returns, feelings that end up with him on his knees in front of her and it ain't for a prayer session. Whew! It was inevitable that these two would end up back in each other's arms, but this is just the jolt the show needs. Noah joins other characters like Will Gardner and Peter Florrick of The Good Wife, President Fitz Grant of Scandal, and Jamie Fraser and Frank Randall of Outlander, to name a few, who all drop to their knees to perform oral sex on the powerful women in their lives. Grace Greenleaf, Alicia Florrick, Olivia Pope, and Claire Randall Fraser are all headstrong women, determined to fight for their respective causes. Their men are quick to submit to giving these women pleasure first, and it's a beautiful, revolutionary act. Cheers to Noah for joining such a prestigious club.
Lady Mae knowingly watches Grace come home and scolds her as if she's still a teenager sneaking in. The reprimands are more scathing than old spats, though: Lady Mae hisses that Grace must be so lonely. It's the second time one of Grace's enemies aims at her love life. Earlier, Isabel sweetly, or not, tells Grace she'll pray for her to find companionship. And now, her own mother tries to shame her for sleeping with Noah. These attacks are reminders of the respectability politics inherent in the church, where a woman needs a husband to prove her status in the community. It's a sad truth, but it doesn't seem to be changing, no matter how progressive the times.
Meanwhile, Bishop turns down Jacob's potential television partnership with Craig, who is counting the rejections by now. Bishop plays it off like an illogical proposition, but later, his hand trembles as he prepares for bed. Lady Mae asks when he's going to tell the truth about the tremors, so Jacob doesn't think he's merely a disappointment. It's yet another nod to Bishop's fallibility and his urgent desire for Grace to take more responsibility at Calvary. Keith David is great as Bishop James Greenleaf, and it would be a disservice if illness diminishes his character. Veteran actors Whitfield and David teach a master class each time they're onscreen. Let's hope the show knows what it has in Bishop and Lady Mae Greenleaf. They should stick around as long as Greenleaf is on the air.