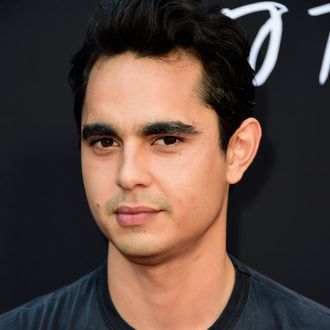 Photo: Frazer Harrison/2016 Getty Images
It's totally cool if you (and everyone from your high-school AP English class) are still reeling with excitement over Elisabeth Moss playing Offred in Hulu's straight-to-series adaptation of Margaret Atwood's The Handmaid's Tale. Get ready to reel a little more: Both Max Minghella and Ann Dowd are joining Moss on her dystopic journey to Gilead, an imagined, futuristic United States where religious fundamentalists run a totalitarian government and women like Offred have become "handmaids" — property of male officials, forced to be their sex slaves and bear their children.
Max Minghella (The Social Network, The Mindy Project) will play Nick, a driver employed in the household Offred resides in, who develops an illicit relationship with the titular handmaid. Ann Dowd (Captain Fantastic, The Leftovers) will play Aunt Lydia, head of the Red Center, the organization charged with indoctrinating the handmaids before they are placed in the homes of high-ranking Gilead officials.
The ten-episode series is set to commence production this fall, and will debut on Hulu in 2017.