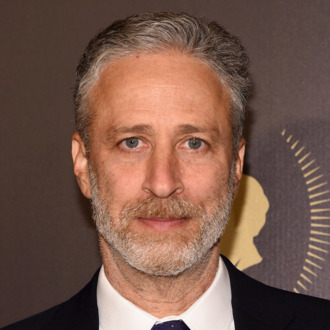 Jon Stewart's new HBO project will allow him to get even more animated about the news — literally. "It will be an animated category of the cable news network with an Onion-like portal [with both video and text]," HBO programming chief Casey Bloys explained Saturday, at the network's Television Critics Association press day at the Beverly Hilton in Beverly Hills. "It will be Jon's voice — both his actual voice and tone," Bloys continued. "My hope is it will be up and running by September or October — by this fall."
As previously announced, Stewart's parody project will be focused on making "short-form digital content" which will go live throughout the day on HBO Now and HBO GO. Bloys elaborated that it will be simple animation that "allows [Stewart] to comment in real time during the day's news events. It'll be animation that allows him to respond to things very quickly." While this sounds like Stewart left his gig at Comedy Central's The Daily Show to become a video-blogger, Bloys clarified that the animated shorts will be compiled into a half-hour TV show that will appear on HBO's linear channels.
HBO also confirmed that Bill Maher has extended his stay at HBO, keeping Real Time with Bill Maher on the channel through 2018. "As long as Washington keeps serving up crazy, we'll be there to push it around the plate," Maher said in a release. "In these turbulent, uncertain times, I can't think of anything more important than me being on TV." Touché.