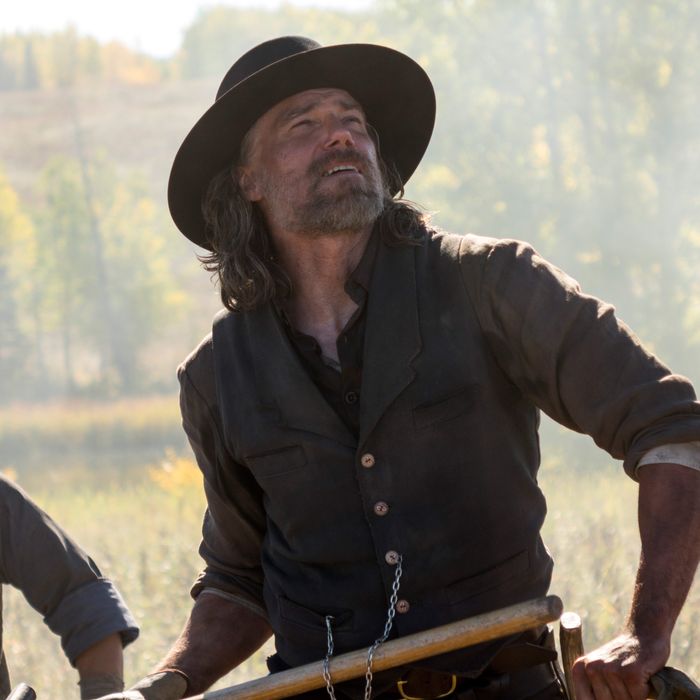 Anson Mount as Cullen Bohannan.
Photo: Chris Large/AMC
Can you think of an act more foolish and conceited than Thomas Durant disrupting his workers' momentum mere yards from besting the Central Pacific to chide them about their effort? Predictably, Psalms and his crew throw down their hammers, cross the divide over to Cullen's side, and make a stand for the common man. It's the stuff of melodramatic '80s movies, with Durant's earlier insistence that his crew half-spike the rail sounding an awful lot like Kreese commanding Johnny to sweep the leg.
And like any good over-the-top villain, Durant has the last laugh. After failing to conquer Collis and Cullen thanks to a band of usurpers, Thomas one-ups Central Pacific's hard-earned win in the race to Ogden by invoking a presidential decree that the railroads be inspected, forcing Huntington into submission via acquiescence of the precious Utah depot. "I won, you lost," Durant gloats to Bohannon as the peons ply themselves with booze and dance in merriment, unaware that their collective triumph has just been minimized by the petulant egos of two spoiled millionaires. Even for Durant, the taunting is a bit much, but as we know, Governor Campbell is all-too on point when cautioning, "You'll get your judgment, Mr. Durant, but not today."
Cullen couldn't have been more astute himself: Amid the revelry, he reminded Louise that the cost of doing railroad business has been remarkably high. There is the staggering death toll, both in the cut and miles afar, but there is also the incalculable loss of character and composure over a four-year period, as individuals with rich histories and heritage boiled it all down to a shared obsession with pride. Mickey and Cullen's literal fireside chat at the finish line puts a fine point on these diminishing returns — not to mention the tragic flaw of our American Dream — by reflecting on the bittersweet irony of his journey from visionary émigré to boilerplate industrial shareholder. Without missing a beat, he commits himself to optimism about what lies ahead in San Francisco.
Cullen knows better. Hard as he might cling to Chinese proverbs about making friends with change, he's heartbroken and broken down. This railroad, this hell on wheels, this thing he's relied on for forward momentum rather than orient himself to the ruins of his life, has taken everything from him — even what it once gave, i.e., Fong, Naomi, William, Elam — and drunk him dry. Whatever led to his hobbled state, be it love or hate (give it a rest, Eva, would ya?), the father turned soldier turned gunslinger turned pioneer is literally felled by episode's end. This iconic figure — like so many etched into history books and our imagination as claimants to heroic achievement — is stopped in his tracks by grief, shame, and loneliness.
For all the pontificating and self-aggrandizement in "Railroad Men" — never mind the penultimate episode's wild pendulum between exchanges of kumbaya platitudes and tyrannical fits — one-eyed Jim, always one with a clever line, may have articulated Cullen's dilemma best. "Everyone's gotta be somewhere," he sums up, barely able to keep from slurring while recounting how his wife and kids headed East, many miles from him. Bohannon can't begrudge anyone — not Fong, not even Durant — for finding one's destiny. That's the gauntlet they tacitly laid with the first and last swings of those mighty sledgehammers. But with one hour left to go before Hell on Wheels kicks dust, and Cullen's legacy superficially captured by the miracle of glass-plate photography, it seems an awful lot like he just wants to disappear.
Apart From All That:
Just like men to fight over laying rail.
Not hard to see how that eventually evolved into drag racing.
Remember when this show was about a biracial friendship, a crazy preacher, and volatile Native American-settler relations? Yeah, me neither.
Naturally, Eva calls her horse Free Spirit.
Some cool-ass shots of Bohannon in the zone.
Someone needs to make a YouTube parody of Cullen and Psalms, BFFs.
Is it possible there'll be no more death? Unless, of course, Cullen finally turns his weapon on himself.