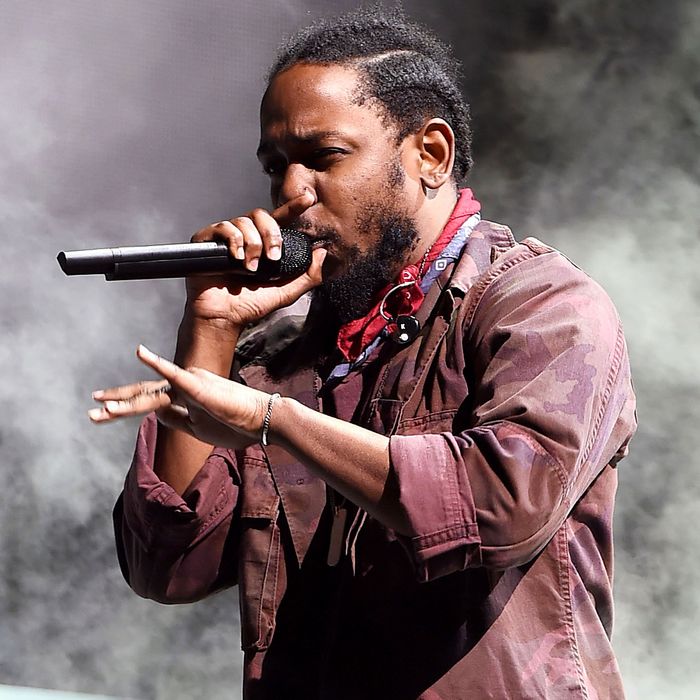 Kendrick, in his element.
Photo: Theo Wargo/Getty Images
Like a heatwave after a rainstorm, Panorama Festival — the first New York City–based fest from the folks to blame for Coachella — rolled through Randall's Island this weekend for a scorcher of a debut just weeks after its rival held the 2016 Governors Ball at the same location. Headlined by Arcade Fire, Kendrick Lamar, LCD Soundsystem, and tons of sponsors (looking at you, HP), the festival kicked off on Friday afternoon with tons of sweat, long lines, and anticipation. In the battle of the NYC festival turf wars, how did Pano Fest size up? Below, we look back at the weekend's many highs and lows.
High: Kendrick Lamar's incredible show
Having seen and reviewed Kendrick Lamar just last year, I was doubtful his headlining performance at Panorama Festival on Saturday night could relay the same intimacy of his short-run Kunta's Groove Sessions. But to borrow from The Night Of (and the Bible), Kendrick's a subtle beast. What he lacks in stature — his labelmate Schoolboy Q joked the day before that even he's taller than Kendrick — he makes up for in his titanic stage presence. One of the many visual highlights at Pano was the video installation on the main stage, a massive 170-foot-wide wall of screens that could project whatever an artist's cinematographer could dream up. No one utilized this technological feat (one that only a Coachella-size budget can afford, I should add) better than Kendrick. His two-hour triumph presented history on loop — clips of George W. Bush tripping, Bill O'Reilly's teleprompter meltdown, Pam Grier in her prime, Prince, President Obama (then a senator) dancing with Ellen DeGeneres, the Reagans, Tupac getting arrested, and the list goes on. Juxtaposed between all those flashes of America's past were the present eyes of Kendrick Lamar, watching, blinking, and shifting above the crowd during song breaks. He's rap's great overseer and, at Pano, he took his perspective on the last three weeks of "evil" and blew it up before our eyes — contextualizing the madness and disrupting it with black pride and unabashed joy. Under Kendrick's watch, we gon' be alright. –Dee Lockett

Low: The heat
After Governors Ball's disastrous rainout less than two months ago at the same venue, the fact that rain wasn't in the forecast for Panorama at first felt like a godsend —  until the blistering heat struck. While the festival's efforts to keep everyone hydrated did not go unnoticed (mist tents, air-conditioned bathrooms, and roving first-aid workers giving out free bottles of water were genuinely appreciated additions), the unbearable heat definitely made for a downer. The desire to stay cool certainly kept many but the most die-hard fans from fully losing themselves in the performances in order to save energy, and while watching Run the Jewels demolish their set from a spot in the shade under a tree can be restorative, being forced to watch a festival from a distance for your own health and safety is an experience that's far from ideal. Mother Nature, please cooperate next time! –Samantha Rollins
High: Arcade Fire's second line for Bowie
Shortly after David Bowie died, Arcade Fire led a second line parade in New Orleans in his honor, alongside local jazz staple Preservation Hall Jazz Band. Both acts played Pano on Friday, and to close their headlining set, Arcade Fire invited PHJB to join them for "Wake Up." It felt like a finale, but as I made my way toward the exit, I noticed on the giant cube projector across the field that both bands were beginning to descend into the crowd. In the intro to "Wake Up," Win Butler spoke of Bowie's influence, noting that Arcade Fire wouldn't be a band if it weren't for him, and that he misses Bowie every day. It ended up being a eulogy that set in motion yet another rapturous second line for Bowie through the audience — with both AF and PHBJ playing "Heroes," "Suffragette City," and "Rebel Rebel" alongside a sea of dancers marching into the night. Behind them, images of Bowie showed onscreen. It was the furthest thing from a dirge, and yet I couldn't stop crying. –DL  

High: DJ Khaled bringing out Fat Joe and Remy Ma
By now, you've likely seen DJ Khaled open for Beyoncé on her Formation Tour and are well aware it's not a Khaled show without friends. Khaled has plenty: For his Pano set (which deserved the main stage), he first got some help from T.I. But this is New York, so he brought out royalty in the form of Fat Joe and Remy Ma, the latter of whom was met with a louder response than some of the bigger artists on the festival's bill. As Gucci Mane celebrated his homecoming the same night in Atlanta, Khaled more or less staged one for Remy. It was practically a Terror Squad reunion —  they ran through all the hits, Remy performed her classic "Conceited," and then she stole the show with a freestyled version of her "All the Way Up" remix verse. It doesn't get more New York than that. –DL
High: Run the Jewels' boldly political set
It should come as no surprise that the man who campaigned for Bernie Sanders and became one of the leading voices in rap against police brutality would also bring one of the most political sets of the entire festival. A lot of artists used Panorama to speak on the recent spate of violence: Some messages were banal ("Let's just love each other," was the gist of AlunaGeorge's), and others empowering (Kendrick leading a "We gon' be alright" chant), and then there was Killer Mike imploring his crowd to "film the police, always," while El-P incited us to scream "Fuck Trump" now while we still can. The future's grim, and RTJ weren't there to sing kumbaya to get through it. Keeping it typically 100 — noticing a Bernie sign in the crowd, Mike let out, "Fuck, my guy lost!" — RTJ warned that Trump will probably win, the police will keep on killing us, but none of it will keep them from dropping truth bombs. (Or RTJ 3!) –DL
Low: Day one entry fiasco
First-day hiccups are to be expected at any inaugural event, but Panorama being run by Goldenvoice — the same organizers who've hosted Coachella for 17 years — and taking place on the same island that's home to Gov Ball every year should have eliminated the usual headaches. But what's too big to fail always does: Those who arrived midday on Friday were greeted with hellishly long wait times in already stifling heat. And for media — many of whom were traveling straight from work —  admitted miscommunication on the part of festival staff meant the bridge-and-ferry commuters had to make the mile-long trek around the island (walking dangerously alongside a highway, no less) to pick up their credentials at the box office on the opposite side of the festival. All those kinks were apparently ironed out by day two, but it was a slap in the face for us early birds. –DL
High: Brittany Howard's powerhouse vocal performance
There are bigger bands on this planet than Alabama Shakes, but after experiencing them for the first time at Pano, I'm not sure there's a bigger voice than Brittany Howard's right now. It engulfs the stage —  thunderous, soulful, raw. At times, it feels like her growl might blow out a speaker. It's transformative in a way that takes you to church and never lets you back out again. Every singer's voice is a muscle, but it feels like no one knows quite how to stretch it like Brittany. I left wanting to personally thank Brittany for reigniting my love for music; in the end, she was the one shelling out genuine gratitude for all the fans she says she can't believe the Shakes have. After Friday, I can. –DL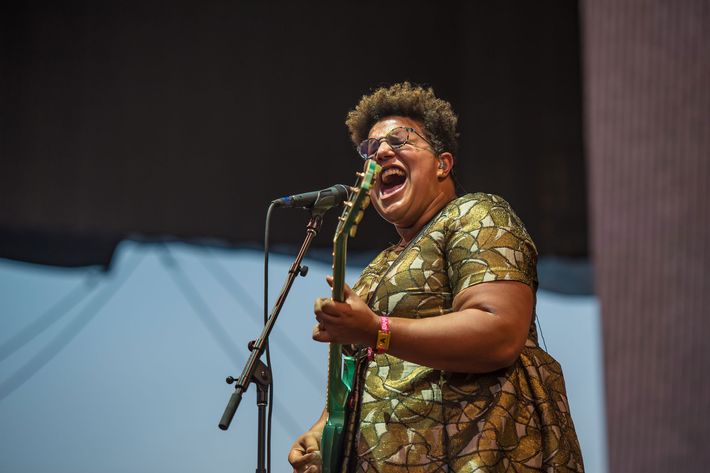 High: SZA's charm
Top Dawg Entertainment dominated headlines (good and bad) at Pano, but none of the label's artists lit up the stage with their personality like SZA. Being a Jersey girl, she treated her Sunday afternoon set like she was performing in her backyard. Most artists race against the clock, firing off song after song; SZA didn't even remember to look at the timer off to the side of the stage until it was nearly too late. She was too busy chatting with the crowd as if we were all just old friends, only stopping to literally catch her breath ("asthmatics unite!") and speak candidly on this "unusually violent summer." At her most charming, she paused her set to sing "Happy Birthday" to a fan near the front, and for her own mother who she couldn't quite coax onstage to join her. –DL
Low: The Parlor stage's capacity limit
In theory, an air-conditioned tent in the middle of a heat wave sounds like an oasis. But in practice, it feels more like 1,100 sweaty bodies crammed inside a cage. Separating itself from Gov Ball, Pano downsized from four to three stages, one of which was in an enclosed dome with a capacity limit. For smaller artists, that's fine. But perhaps underestimating the major resurgence of DJ Khaled, Pano made the mistake of putting him on their smallest stage, the Parlor, on Friday night. The line to get in snaked into the other side of the festival where Arcade Fire were simultaneously headlining; even VIP was a free-for-all. I ended up missing the first ten minutes of Kaytranada's set the next day because the tent was once again at capacity. If you pay for a ticket to a festival, you should be able to see every artist on the bill that you want. We get it: New York City is overcrowded, but that's no excuse to plop a crowd-capped venue in the middle of your outdoor festival. –DL
High: DJ Khaled's dad moment
Generally, festivals aren't the best place for kids — shout-out to the mini–Maddie Ziegler in the making at Sia's show, though — but if it's bring your child to work day, and your work happens to be DJ Khaled, Inc., then even your unborn son gets some stage time. Easily making up for being 20 minutes late to his set, Khaled brought out his pregnant fiancée, Nicole Tuck, for a Major Baby Alert. Nothing screams proud papa like an ever-emphatic Khaled rubbing her baby bump and repeatedly declaring "I got us!" As if anyone doubted he's front runner for Father of the Year before his first child's even born. –DL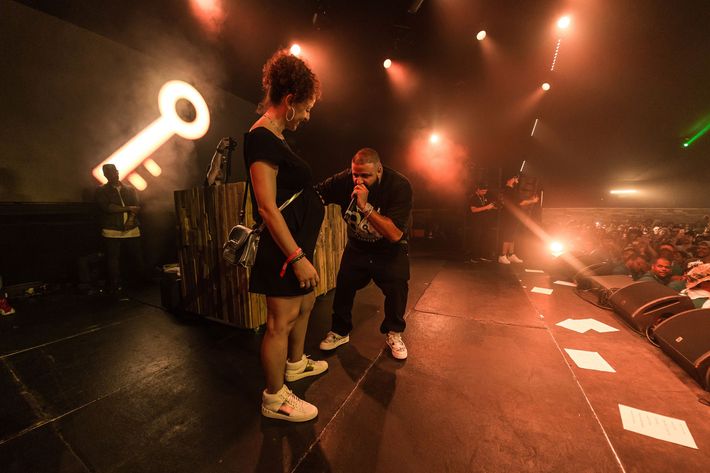 High: A$AP Rocky's dedication to not giving a fuck
Admittedly, I missed nearly all of Rocky's set, only catching the remaining ten minutes after Sia. But in those ten minutes I saw what was easily the most hell-raising set of the festival (even more rowdy than Major Lazer), one that saw A$AP demanding to be a headliner, command a mass mosh pit that opened up for at least five (!), and then ended with the A$AP Mob posse cut "Yamborghini High." There were plenty of New York moments to be had at Pano, but none made me feel the pulse of this city more than watching the Mob wild the fuck out while the sun set over their collective home of Harlem beyond the RFK Bridge just behind them. –DL
Low: Sia's underwhelming set
Notoriously elusive, Sia hadn't performed in concert in over five years prior to a few months ago. So when she made her return at Coachella in April, hopes were high, but expectations reasonably low. She stuck to the script, sang behind her wig from a platform off to the side, and let her dancers (including a Maddie Ziegler look-alike) do the grunt work while a short film starring Paul Dano, the real Maddie, Kristen Wiig, Tig Notaro, and Gaby Hoffmann screened. It translated stunningly on the livestream. In person, though, it's deceptive. If you've seen the act, you know what's playing on the screens above you isn't what's happening live onstage. But if it's all new to you, then like most people in the Pano crowd, you're duped into thinking it's the real deal. "How is Kristen Wiig involved in this???" I saw a girl in front of me caption her Snap, falling for Sia's whole ruse. None of this takes away from Sia's vocal acrobatics, but to have her dancers impersonate the more famous names being shown to the audience in their stead, in a sense, cheapens their work. It isn't until "Elastic Heart" near the end of her set that Sia breaks the illusion and gives her dancers their due onscreen credit. It's an impressively controlled piece of theater, but one that never really lets its curtain fall. –DL

High: Sufjan Stevens's bizarre theatrics
Depending on your tolerance for psychedelic nonsense, Sufjan Stevens's set was either a showy, groan-worthy play for the festival crowd or an uninhibited and revelatory performance: For me, it was the latter. While some fans may have come to the Pavilion tent expecting to see Sufjan play the stripped down, emotionally crushing songs from his latest album, Carrie & Lowell, Sufjan's set saw him playing a mix of old hits and new songs, all tweaked with extra drumbeats and brought to life by costumed dancers wearing neon makeup, angel wings, and other bizarre creations. Sure, it was all brazenly theatrical (Sufjan's rendition of the 25-minute opus "Impossible Soul" had something like five costume changes), but it was hard to shake the feeling that the day-glo sweatbands and disco-ball-plated jumpsuits were a deliberate attempt at injecting an artificial levity into Sufjan's songs, many of which have painful sentiments of grief, loss, and illness at their core. Watching the colorful chaos was entertaining but also heartbreaking, which was probably the point. –SR
Low: Schoolboy Q's onstage tantrum
Festivals are tricky. As an artist, you have to accept that not everyone watching you came specifically to see you. Inevitably, there'll be stragglers and casual fans outnumbering the diehards — an unfortunate reality of Schoolboy Q's Friday set before the night's biggest acts. Having interviewed him before the show, I could see he was irritated by the heat and scurry to get to the venue. He couldn't hide it during his set, which, while technically great, ended with Q nearly pulling the plug on the whole thing, heckling his fans to do better. Afterward he tweeted, "Dat sHit was Hella weak I literally stood still and performed." It's an important lesson to remember that, as a performer, you're only going to get back the energy you emit. His was off from the start. –DL
High: Anderson .Paak's crazy energy
If the near 100-degree heat made artists a little less inclined to give incredibly physical performances, we really couldn't blame them. But Anderson .Paak wasted no time in bringing the crowd inside the Pavilion tent into a frenzy from the (very punctual) moment he walked onstage, dancing while delivering pitch-perfect renditions of songs from his criminally underrated record, Malibu, and often jumping to a drum set to seamlessly pick up the beat while continuing to sing. That virtuosic energy was matched by his stage banter, which began with serious talk about his hardscrabble beginnings and ended with bold declarations of optimism: "Are you happy to be alive?" Anderson asked the crowd, out of breath and grinning. "Don't it feel good?" Yes. Yes it does. –SR

Low: "The Lab" gimmick
Panorama attempted to differentiate itself from Gov Ball by going all in on the angle that the festival would highlight the convergence of music, technology, and art. The festival's site boasted of a high-tech dome called The Lab, which "places experiential digital art at the heart of the festival, with seven interactive installations and a massive 360-degree virtual-reality theater." What we really got, though, were a few "interactive" installations that were clearly designed for getting likes on Instagram. But perhaps the biggest missed opportunity was the supposed "virtual-reality theater," which was in actuality a high-tech version of a mediocre planetarium experience, in which attendees lie on the floor to watch "a short film by HP" (brand integration!). It's not terribly difficult to create visuals that will look stunning in this kind of venue that will please inebriated festivalgoers, so it was even more disappointing that half of them were little more exciting than an iTunes visualizer (a spaceship overhead! Some weird patterns! You get the picture). All in all, nothing that would get me excited to buy a printer. –SR