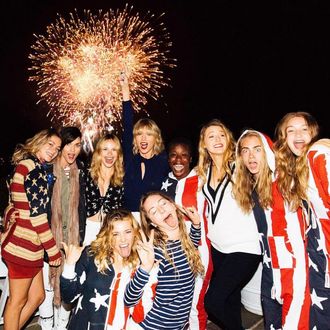 Hmmmmmmmmmm…
Photo: taylorswift/Instagram
Ah, the Fourth of July: a time to grill, to watch fireworks, to celebrate the birth of this great nation, and to wonder whether celebrities are lying to us. See, Taylor Swift has turned her annual Fourth of July party into an Instagram event, predicated not on basking in the refracted glow of celebrity (though there is some of that), but on trying to figure out how much of that glow is artificial. Is this anything like anyone's actual Fourth of July party? More importantly, is it fun?
Piecing together what little information we have — thank you, paparazzi, unless you're being manipulated, in which case, no thank you — we've collected our assorted thoughts into a scorecard on the event. The higher the value, the more it seems like an actual Fourth of July party. All scores are, of course, exact, permanent, and totally objective.
Part 1 – The Setting
Per the usual, Swift's party took place at her mansion (-10, people do not own mansions) in Rhode Island (+5, Rhode Island is a good enough state for parties). A source for People describes the party as "hopping" (-20, we aren't in a '90s rap video).
The playlist: "Songs Like Shakira's 'Hips Don't Lie'" (+10, they do not).
The activities: An inflatable slide with the words "Taymerica" printed on the side (-20, bad portmanteau; +30, slides are awesome), a game of football (+10, 'Murica), a trip to the beach (+20, everyone loves the beach; also, another +5, because everyone definitely got sunburned and grumbled when, later, they rubbed against each other's sunburns while taking a group picture, which is the essence of any Fourth of July party).
No word on the food (+30, we assume it was good; -5, but not good enough to Instagram?).
Setting tally: 55, sounds fun.
Part 2 – The Guest List
Regulars: Gigi Hadid (+10, friends), Cara Delevingne (+10, partners in crime), Karlie Kloss (+20, besties), Abigail Anderson (+20, also besties), Matt Lucier (+5, husband), Martha Hunt, Jordan Masterson (+5, sure), Uzo Aduba (+15, can sing; -30, too cool, throwing off the balance) Austin Swift (+40, brother), Este Haim (+5, a Haim).
Surprises: Ruby Rose (+20, random, but every party needs a Cool, and it is the Cool's duty to be random), Harley Gusman (+5, girlfriend of the Cool), Ryan Reynolds (-10, Deadpool doesn't do parties; +15, Ryan Reynolds does), Blake Lively (-100, in on it).
Missing in action: Other Haims (-50, bad luck to divide Haims), Lena Dunham, Emma Stone, Lorde (+30, probably busy), Selena Gomez, who held a party of her own (+100, maybe it's a sign of Bad Blood, maybe it's just that she's on a tour of her own, maybe it's that two adults are growing apart in their 20s in the weird and inexorable way that we all do, and we're glimpsing that separation through the imperfect medium of social media, which only intensifies the distance between people, making everything all the more stark, and yet, bittersweet), Calvin Harris (+45, heartbreak), Ed Sheeran (+35, Brexit).*
*Late-arriving Instagrams indicate that Ed Sheeran was, in fact, present, alongside additional Haims. As with the actual Brexit, the sentiment stands.

Part 2b – The Case of Hiddleston
Taylor Swift is dating Tom Hiddleston (-100 for believability; +50, not entirely out of the blue, when you really think hard about Tom Hiddleston).
Taylor Swift and Tom Hiddleston went to Rome (+5, Rome is cool).
Tom Hiddleston wore a tank top that said "I ❤ T.S." (+50, lame, but in a believable way; +15, it could be about T.S. Eliot; -50, dude, it's definitely not about T.S. Eliot; -200, he wore it in the ocean; -300, he also had a temporary tattoo with a "T" surrounded by a heart and we aren't in the third grade).
Taylor Swift and Tom Hiddleston engaged in a pose common to humans known to be in love (-400, blech).
Guest tally: -740 (190 minus 930 for the Hiddlemess).
Part 3 – The Instagram(s)
So far, Swift has shared only one Instagram from the event (-80, restraint). It depicts many of the key players in red, white, and blue outfits (+5, America) with some fireworks in the background (+10, Americaa). In the background, one can observe a red solo cup (+15, Americaaa), a man's calves (+10, [sighs, exhales cigarette smoke] men), the metallic legs of what's clearly a rented table (+20, everyone rents cheap tables; -30, Taylor Swift does not).
The caption: "Happy 4th from us ❤." (+50, knowing, in its own weird way).
Addendum: Swift has added six more Instagram photos since we first posted our investigation (-60, deadlines, girl). In two of them, we see Swift pose in a striped swimsuit (+15, patriotism; +20, pyramid composition; -30, Illuminati?).
In another, she organizes another group photo on the beach (-45, you cannot have two competing group photos; +60, you posted a photo of Blake Lively in … the shallows; -5, you left out Steven).
Most important, we see more of the Taymerica slide, in a series of three action shots (+30, could be part of Apple's "Shot on iPhone" campaign; -50, is clearly not). Two of them are charming in a Norman Rockwell sort of way (+5), the third, and don't ask us why, is moving ( +15, that gorgeous crescent view of the sea; +35, the underutilized beach umbrella emoji; +50, guys, I know it's sappy, but, friendship).
Other photos were posted by Swift's friends. We haven't the space to cover them all (and, rest assured, they are variations on a theme), but this, from best friend Britany LaManna (née Maack), seems relevant:
(-40, I am so, so tired.)
Updated Instagram tally: Still 0, two steps forward, two steps back.
Final Tally: -685, you really shot yourself in the foot with that fake tattoo, Taylor.