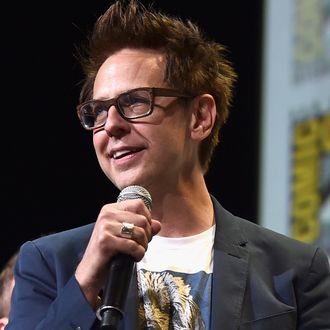 Gunn, Kurt Russell superfan.
Photo: 2016 Getty Images
We've long known Kurt Russell would be a featured player in writer/director James Gunn's next Marvel outing, Guardians of the Galaxy Vol. 2, but only at the studio's big Comic-Con presentation did we learn his role: Star-Lord's father, a human manifestation of a living planet named Ego. That's all well and good, but let's be real: Russell could be playing a living doormat with no lines and it'd still be a life-highlight to be on set with him. After the panel, I asked Gunn for his favorite story of interacting with the grizzled action vet.
"I think my favorite Kurt [story] — and there's a lot of them, because he tells a lot of stories, he's a very talkative, Chatty Cathy — but there's a story where I was grilling him about Escape From New York," the wild-haired, boundlessly exuberant Gunn replied. "He was telling me about how, when he had the screenplay for Escape From New York, the studio heads were like, 'Hey, we don't wanna make this movie because this guy isn't likeable! How is anyone ever gonna like this guy?' And he says" — here, Gunn leaned back and started his Russell impression: roaring his words while throwing his fists around like a boasting gorilla — "'Cause I'm gonna play him! And I'm an innately likeable guy! I don't know why! Just everybody likes me!' And that's Kurt Russell."