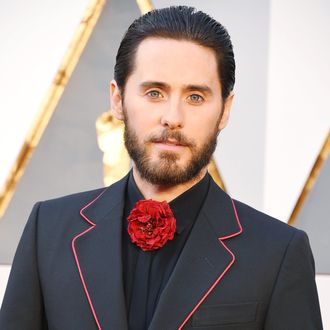 Jared Leto, clothed.
Photo: Steve Granitz/Getty Images
It wasn't just on the set of Suicide Squad that Jared Leto terrorized his cast mates in character. As the Joker, Leto showered his fellow actors with dead rats, boxes of bullets, and used condoms. Correction: unwrapped condoms! "Look, they weren't used condoms," said director David Ayer in Rolling Stone's Jared Leto profile. "Let's be real here. They're removed from their packages, but it wasn't actually used." Whew! Leto also brought his Method acting to the set of Dallas Buyers Club, where he played the transgender woman Rayon in an Academy Award–winning performance. He was in character from the moment he first spoke with director Jean-Marc Vallée over Skype. "He was dressed as a woman," Vallée said, "and he was hitting on me. And he kept it up for 25 minutes."
On set it was never Leto the actor, but Rayon the character, who would try to steal things from his co-star Matthew McConaughey. "He tried to steal things from me," said McConaughey. "Literally, my pocketknife, lighters, etcetera." It made Vallée uncomfortable to the point where he didn't know which gender pronoun to use. "I didn't know how to address him or her because he was such a lady. He was such a girl, and he was sexy!" Apparently McConaughey agreed:
At one point, Vallée recalls, McConaughey — also doing a certain degree of Method work as his homophobic-but-learning character — looked at Leto shimmying onto the set and said, "I don't know whether to kick your ass or fuck it!"
That sounds about right.