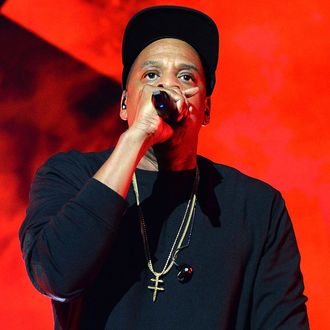 Photo: Kevin Mazur/Getty Images
After two black men, Alton Sterling and Philando Castile, were fatally shot by police within 24 hours, and then five white police officers were killed by a black sniper at a rally in Dallas, several musicians have added their voices to the nationwide protests with new songs. Jay Z, who hasn't released an original song as a lead artist since 2013, dropped a new track called "Spiritual" that makes several references to Michael Brown's similar death at the hands of police with lyrics like "Got my hands in the air, in despair, don't shoot." He also shared a playlist titled "songs for survival," including classics from Nina Simone, Curtis Mayfield, Sam Cooke, and more, as well as more recent protest anthems like Beyoncé and Kendrick Lamar's "Freedom."

Swizz Beatz also unveiled a song called "Sad News." The producer collaborated with rapper Scarface on the track, which calls for both prayers for those who have been lost to gun violence and for legal action against the officers who pulled the triggers.
In a raw song called "How Many," Miguel asks, "How many black lives does it take to make a change?" He also made an impassioned plea for change during his set at the U.K.'s Wireless Festival.
Solange sang Syreeta's "Black Maybe" on Instagram to "try to comfort [her] weary heart," before joining protests in Baton Rouge.
Mistah F.A.B. quickly put out "6 Shots," which laments a deep history of black pain and violence against African-Americans. "So for all you white folks that say we all equal, I bet you wouldn't trade pigmentation with my people," he raps in anger.
Chris Brown released two new songs, "A Lot of Love" — which interpolates the Five Stairsteps' "O-o-h Child" — and "My Friend" in response to the spate of violence. "This song I released for free for anybody dealing with injustice or struggle in their lives," he said of "My Friend" on Instagram.
Kanye West producer Mike Dean and rapper Z-Ro released "No Justice No Peace," using the popular Black Lives Matter chant to express their shock after they say watched the latest news unfold. "I'm tired of holding my hands up, fuck that," Z-Ro raps.
Victoria Monét rereleased "Better Days," her song originally written with Ariana Grande after the Orlando tragedy, as a call for peace in the wake of last week's killings.
Eric Garner's sister and brother shared another anti-police brutality protest song, echoing their late brother's infamous last words "I can't breathe." "We ain't gonna stop until others free," his sister sings.
My Morning Jacket released "Magic Bullet," an anti-hate song. "How long will it take before we realize we are all the same," they wrote in an accompanying message.
This post has been updated throughout.