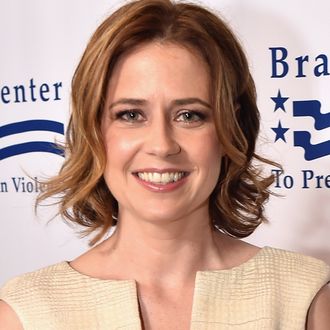 Photo: Kevin Winter/Getty Images
Just weeks after the Broadway lights went off on his Tony-nominated musical Bright Star, playwright (and famous actor/comedian/banjo player) Steve Martin is back, baby. With an all-star cast featuring The Office's Jenna Fischer and Greg Germann (Ally McBeal), Martin's newest venture, Meteor Shower, has already, according to Deadline, received a one-week extension due to high ticket sales. The play starts previews at San Diego's the Old Globe on July 30 and opens August 7. The play's official description explains that Fischer and Germann play a married couple who invite another pair of lovebirds over for a night of stargazing when "the conversation gets rolling, cocktails flow, tempers flare, and sparks fly — literally." So, basically this is Martin's comedic take on Who's Afraid of Virginia Woolf? Meteor Shower will run through September 11.
*Correction: A previous version of this post credited Deadspin instead of Deadline.