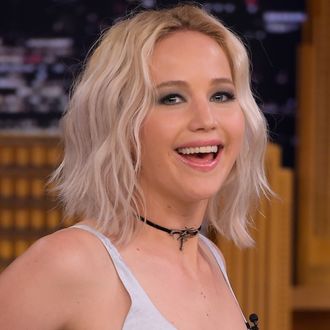 Photo: Theo Wargo/Getty Images
Jennifer Lawrence's powerhouse performance in 2010 indie Winter's Bone launched Lawrence into stardom and netted the actress her first Academy Award nomination. Lawrence's memorable turn as an Ozarks teen is still inspiring — so inspiring, in fact, that Simon Pegg, star and co-writer of Star Trek Beyond, revealed at a press conference this week that Lawrence's character in Winter's Bone inspired the character of Jaylah (played by Sofia Boutella) in the upcoming Star Trek installment.
"We were trying to create this very independent character. But we didn't have a name for it," Pegg explained. "So we just called it 'Jennifer-Lawrence-in-Winter's-Bone.' That's a long name, so it started getting tiring always saying, well, 'Jennifer-Lawrence-in-Winter's-Bone' is fighting here. So then we started calling her 'J. Law.' And then she became Jaylah."
Jennifer-Lawrence-in-Winter's-Bone is big shoes to fill (real talk: Jennifer Lawrence in anything is big shoes to fill), but Pegg is excited about Jaylah and the female representation in this upcoming Star Trek.
"We love Sofia — she's a nutcase and a golden edition to this group," Pegg said. "There are not a lot of girls in Star Trek. Zoe [Saldana as Uhura] has a lot on her shoulders."
Star Trek Beyond is in theaters July 22.