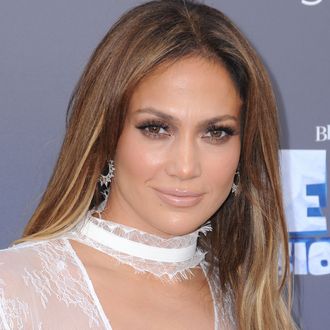 But will she dance?!
Photo: Barry King/Getty Images
So you think you can make a reality-TV dance competition? Only if you're J. Lo: Jennifer Lopez, former (but truly forever) Fly Girl, has teamed up with NBC for World of Dance, a ten-episode dance show where elite dancers from around the world will compete for $1 million. (Lopez also currently stars on NBC's Shades of Blue.) Unlike So You Think You Can Dance, which only just embraced prodigies under 16, the show will be open to all ages. Dancers will battle each other America's Best Dance Crew–style, with solo dancers going up against duos and crews of various styles. They'll be grouped together in divisions based on age and group size that will duel each other until a panel of yet-to-be-named judges picks a winner from each division; those winners will then go on to compete in the finale for bragging rights and that big fat check. And speaking of SYTYCD, husband-and-wife choreographers Napoleon and Tabitha D'umo (a.k.a. Nappytabs!) will serve as consultants on the show. Because nothing says "dance battle" like NBC stepping on Fox's toes.