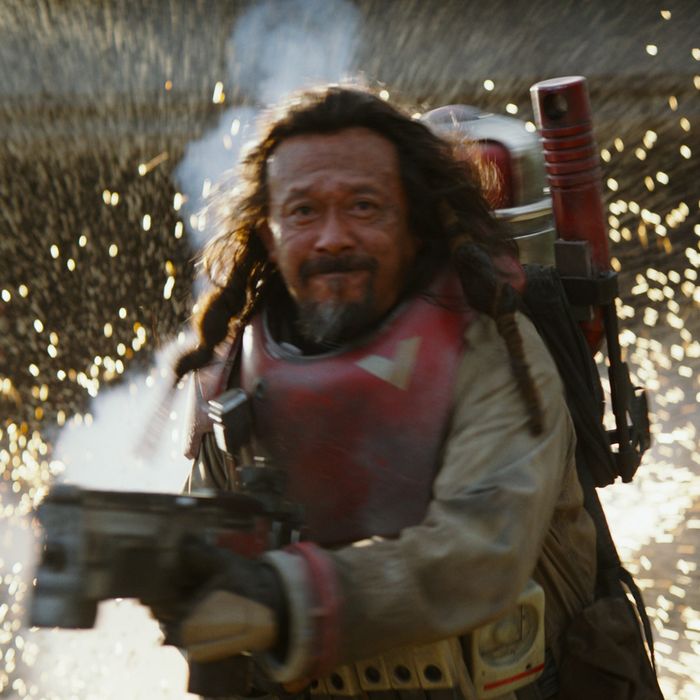 Jiang Wen in Rogue One.
Photo: Lucasfilm
When it comes to Rogue One: A Star Wars Story, Disney has been having trouble keeping their usual totalitarian grip on information. Mads Mikkelsen let slip that he was playing the protagonist's dad, pages from a visual guide leaked, and rumors of reshoots and a troubled first cut swept the web. But perhaps the biggest spoiler of all spilled out of the mouth of ensemble member Jiang Wen today at Star Wars Celebration Europe, during a high-profile panel about the film. Spoilers below, obviously.
We'd already known the Chinese actor would be playing a mercenary named Baze Malbus, and that the character would be a companion of the blind "spiritual warrior" Chirrut Imwe, played by Donnie Yen. What we didn't know, and surely were not supposed to know, is that Chirrut apparently dies by the film's end. After a charmingly goofy bit of babbling in broken English about how Baze "has a gun, he has a huge gun, he has a weapon, the weapon's very huge," Jiang talked about his relationship with his blind pal.
"He and me was a partner and he believe of course, believe in Force," Jiang said. "But my character don't believe Force at that time. But I pretend all of them, not them, just them, to do very, very big mission. I cannot say that. And when this guy dead, I do something better. Maybe I believe, by my action, he's thinker, I'm doer."
"I think you've gotta leave it there!" interjected a panicked Gwendoline Christie, who was emceeing the panel.
"Anyway, I have a gun," he concluded.
Well! How about that! It's certainly possible that this was some kind of mistranslation or that we misheard what he said. Or maybe it's a red herring! But it seems most likely that this particular Force-sensitive cat is out of the bag. We'd spell "Whoops" in Aurebesh, but Unicode doesn't support the character set.