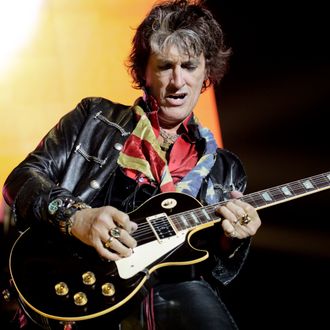 Photo: Christie Goodwin/Getty Images
Aerosmith guitarist Joe Perry collapsed backstage during a Hollywood Vampires concert at Coney Island's Ford Amphitheater early Sunday night. In an Instagram video from the concert, Perry, in the midst of a performance with the band — a supergroup comprised of Perry, Alice Cooper, and Johnny Depp — looks ill and unsteady before he staggers offstage during the song. According to reports, he then collapsed backstage and paramedics quickly escorted the rocker to a nearby Brooklyn hospital. Police sources told Pix11 News that, under medical supervision, Perry's condition had been upgraded to stable. The rest of the band finished the set without Perry. Cooper later addressed fans on Twitter: "Thanks to everyone asking about our brother @JoePerry. He is stable right now, with family & is under the best care." On Monday, Hollywood Vampires canceled their late-night appearance together on The Late Show with Stephen Colbert, with Blink-182 stepping up to fill the musical guest spot.
Update, July 23: Recovering from what was described as a combination of "dehydration and exhaustion," Perry returned to the band's tour Friday evening in California, after nearly two weeks of rest. The band continued on to their scheduled tour stops without him, and now have three more remaining stops left on their "Raise the Dead" tour.