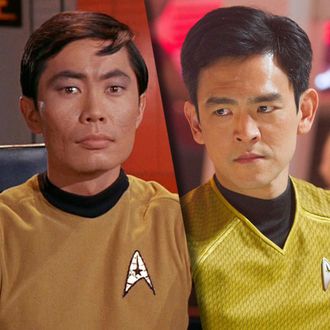 Photo: Paramount Television, Paramount Pictures
It's a whole new world for Hikaru Sulu. John Cho, the actor who plays Sulu in the J.J. Abrams film reboots of Star Trek, says the helmsman will be revealed as gay in the upcoming Star Trek Beyond. "I liked the approach, which was not to make a big thing out it, which is where I hope we are going as a species, to not politicize one's personal orientations," Cho told Australia's Herald Sun. The paper reports that the decision to give Sulu a husband and a daughter was a nod to George Takei, who played the original Hikaru Sulu.
John Cho's Sulu will be the first gay canonical Star Trek character. Back in 2011, J.J. Abrams told New Now Next that he would consider putting a gay character into the franchise. "It's one of those things I'll bring up with the writers next time we meet," he said. Even though Gene Roddenberry's show made strides to be racially inclusive, Star Trek never had major queer characters. In fact, Paramount actually suppressed an episode where one writer tried to introduce a gay character in The Next Generation. On the TV show, Sulu was never paired with any romantic partners, but it was later shown that he had a daughter, Demora Sulu, who took his place in the 1994 movie Star Trek Generations. For Star Trek Beyond, Sulu would be arguably the most visible major gay character in a popular film franchise. (Whatever, Dumbledore.)

The move is a clear homage to Takei, who publicly came out in 2005 after then Governor Arnold Schwarzenegger vetoed a bill that would have legalized same-sex marriage in California. Takei had been in a relationship with his partner, Brad Altman, then for 18 years. At the time, Takei said, "It's not really coming out, which suggests opening a door and stepping through. It's more like a long, long walk through what began as a narrow corridor that starts to widen." In May of 2008, Takei and Altman became the first same-sex couple to apply for a marriage license in California, and they held a wedding ceremony later that year. They have been together for 29 years.