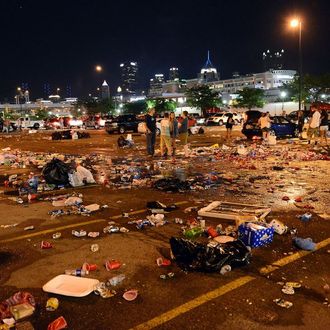 Photo: Karen Brill/Guy Wathen/Twitter
Kenny Chesney's fans are notoriously a bunch of hooligans, known for getting rowdy, trashing venues, and generally acting as instruments of chaos whenever the country singer comes to town. Saturday night, the throng descended on Pittsburgh's Heinz Field for a Chesney concert, and despite the city's best attempts to set guidelines, Kenny Chesney fans don't want no stinkin' rules. According to the Pittsburgh Post-Gazette, over the course of the night, at least seven emergency medical transports were called, 25 people were taken to hospitals (mostly for alcohol-related issues), 5 people were arrested, and several fights were broken up. And as rambunctious as the concert itself was, what came next may top it: The Post-Gazette reports that as the show ended, "a reeking, hulking mass of garbage leftover from the day's earlier festivities began to appear behind the exodus of country music fans." The paper describes a scene wherein people held shirts up to their face to avoid the stench as fluid from portable toilets flooded the streets.
Jen Telfer, who claims to have been to at 20 Chesney shindigs, told the paper: "I have never seen this amount of trash, ever. … What are we, savages?" Don't let the descriptions of apocalyptic sludge fool you, though. Guy Costa, chief operations officer for Pittsburgh, said of the way the concert was handled: "Everyone worked very well together. We're very pleased," while Pittsburgh Police Chief Cameron McLay said officers were able to "maintain an incredible amount of control." Okay, then! We'd hate to be passing through Pittsburgh when things went sideways.