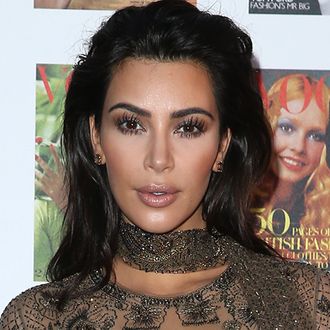 Photo: Fred Duval/Getty Images
If Kim has a planner, she must have written down for Sunday, "Put Taylor Swift on Blast," and underlined it in red. Twice.
Kim Kardashian has said all along that there was video proof of hubby Kanye West calling Taylor Swift to get her permission about the controversial lyrics in his song, "Famous," where he proclaims, "I feel like me and Taylor might still have sex / Why? I made that bitch famous."
And on Sunday night, Kim proved she has the receipts.
In a series of video clips shared on Snapchat, Kim showed bits of the conversation between Kanye and a voice on speakerphone that appears to be Taylor's.
The Snapchat story begins with Kanye calling Taylor, asking, "You still got the Nashville number?" In another snap, he reads a lyric and slows down, enunciating that part, "me and Taylor might still have sex." In another snap, Taylor sounds like she says, "It's like a compliment."
By the looks of it, Kanye really didn't want to upset Taylor with the lyrics to the song.
In one snap, he says: "I don't want to do rap that makes people feel bad." Taylor, for her part, says she really appreciates Kanye for letting her know about the lyric, adding, "That's really nice."
The following snaps, which are splices of a QuickTime video, show Taylor going on about how she thinks people will react. She talks about how she'll be in on the joke as well when she's eventually asked about it on the red carpet.
It's unclear what portions of the conversation, if any, have been left out.
Judging from the Snaps, though, it does seem that Taylor gave Kanye permission for two lines in the lyrics and said either was fine by her. In referring to the "famous "line, she says she thinks it's more provocative.
Kim's exposé on Taylor began earlier on Sunday night when she first tweeted out some major shade with the help of almost 40 snake emojis.
Fans expected video of Kanye's conversation to air on the new KUWTK. But Kim had offered a hint at the end of her live-tweeting the episode. She asked if people were following her on Snapchat.
The lesson here?
Don't mess with Kim's man.