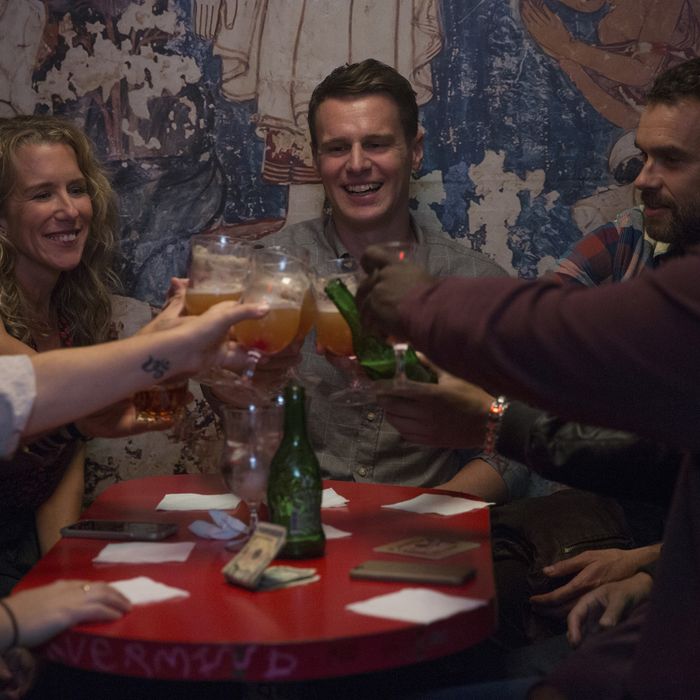 Lauren Weedman as Doris, Jonathan Groff as Patrick, Murray Bartlett as Dom, Bashir Salahuddin as Malik.
Photo: HBO
More than a year ago, Looking ended its beleaguered two-season run with a cliffhanger episode that aired shortly before the series was canceled by HBO. The easily panicked Patrick (Jonathan Groff) had moved in with his boss, Kevin (Russell Tovey), and he realized almost right away that he had made an enormous mistake. Feeling trapped after a toxic argument about monogamy, Patrick took shelter at the hair salon where his former boyfriend Richie (Raúl Castillo) worked. As the episode ended, it seemed that Patrick would have to show real strength of character to extricate himself from Kevin, who had always been a bully and a manipulator.
Looking: The Movie jumps forward in time nine months from that last episode. Patrick is seen in a taxicab, visiting San Francisco for the wedding of his friend Agustín (Frankie J. Alvarez). We learn that he broke up with Kevin, deactivated his Facebook account, and moved back home to the Denver area. The chicken restaurant that Patrick's friend Dom (Murray Bartlett) opened is doing well, and Dom's best friend Doris (Lauren Weedman) is also thriving.
"I'm embracing my heterosexuality," Doris says. She seems happy in her relationship with Malik (Bashir Salahuddin), unlike poor Richie, who keeps sending "help me" looks to Patrick with his eyes whenever his boyfriend Brady (Chris Perfetti) says something snide or negative. "Your hair looks good," Richie tells Patrick, in his soft, gentle voice. Remember how Patrick told Richie to give him a buzzcut in the last Looking episode? He has let the top grow out and kept the sides short, which is a nice visual way to bind the two characters together.
The writing in this wrap-up movie is far more conventional than what was usual during the run of the show, with characters making far-reaching and helpful pronouncements about their lives and what they want. ("Going away was about pressing the reset button and starting over," Patrick says at one point.) The best moments are the ones between Patrick and Dom, because their interactions are closer in spirit to the naturalistic, drifting feeling that was a hallmark of the original series.
There's an excellent scene midway through the movie that highlights this dynamic: Dom and Patrick are smoking weed, and Patrick decides to turn his full charm on Dom and see if they might have a romantic spark. Dom doesn't take this seriously, but just to be nice, he eventually leans over and kisses Patrick for a while. Though the kiss has a bit of heat, they both finally break up laughing because it really isn't working for either of them. "I'm sorry I made you make out with me," Patrick charmingly says afterward. The interplay between Groff and Bartlett in this bedroom exchange is sweet and layered and very lifelike, which is what Looking itself was like at its best. (Also, kudos to Bartlett for his dead-on, tart-voiced impression of Annette Bening in The Kids Are All Right.)
Alas, we also get a dose of Looking at its worst when Patrick decides to text Kevin, meet up with him, and thrash things out one more time. Kevin has blond hair now, but his bullying manner hasn't changed one bit. The movie attempts to give Kevin some genuine emotion and complexity in a long confrontation scene between him and Patrick, but Tovey plays him like an unrepentant macho guy, swatting away his own feelings. Tovey always portrayed Kevin too harshly; the character never had the dimensions to make a love triangle between Patrick, Kevin, and Richie either believable or interesting.
In the last third of the movie, Perfetti does what Tovey needed to be doing all along on this show: He plays his unlikable character, Brady, in a way that makes you see why he behaves badly. Perfetti is a skilled enough actor to earn sympathy and understanding with just a few split-second looks of panic. It's a reminder that very subtle acting details can make or break a story, as was often the case here.
As Looking wraps up for good, Patrick says the words, "I'm not afraid," echoing a famous scene in the 1942 movie Now, Voyager, where Bette Davis's Charlotte Vale says that exact line to her tyrannical mother. It's unclear whether the writers and creators of Looking intend it as an old-school gay reference — it might just be a coincidence. Deliberate or not, "I'm not afraid" makes for a satisfying coda to a series that finally comes to rest, as so many TV shows do, on the idea of friendship being the most important thing in life.