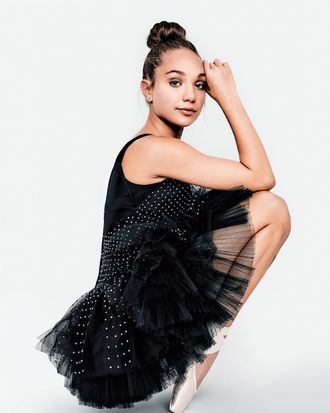 Photo: Bobby Doherty/New York Magazine
"When I was 8, I wasn't doing what 8-year-olds are doing now."
It's funny to hear Maddie Ziegler appraising the cohort of talented, tiny dancers coming up behind her. After all, she's just 13. But Ziegler, best known as the platinum-blonde-bewigged stand-in for camera-shy pop singer Sia, is already a bit of an old hand when it comes to dancing onscreen. "We did more old-school dancing, but they're way more advanced," she continues. "Even 9- and 10 -year-olds are so good at hip-hop — their freestyling is amazing, and I'm sure some of those kids choreograph their own dances."
Ziegler's dancing career (on TV, at least) began in 2011, when the Pittsburgh native emerged as the preternaturally polished standout on six seasons of Lifetime's reality show Dance Moms, where Sia first discovered her. This week, Ziegler will join Paula Abdul, Jason Derulo, and Nigel Lythgoe on the judging panel of So You Think You Can Dance: The Next Generation, the reality juggernaut's first foray into competition for the 8- to 13-year-old set.
Competition can instill plenty of good habits in young dancers — stage presence, attention to detail, showmanship — but it can engender plenty of bad ones as well — favoring precision over artistry, and a tendency toward mugging that Ziegler herself once suffered from (it even had a name: "Maddie Face"). Breaking those depends on both training and working with teachers who will push a young dancer toward greatness.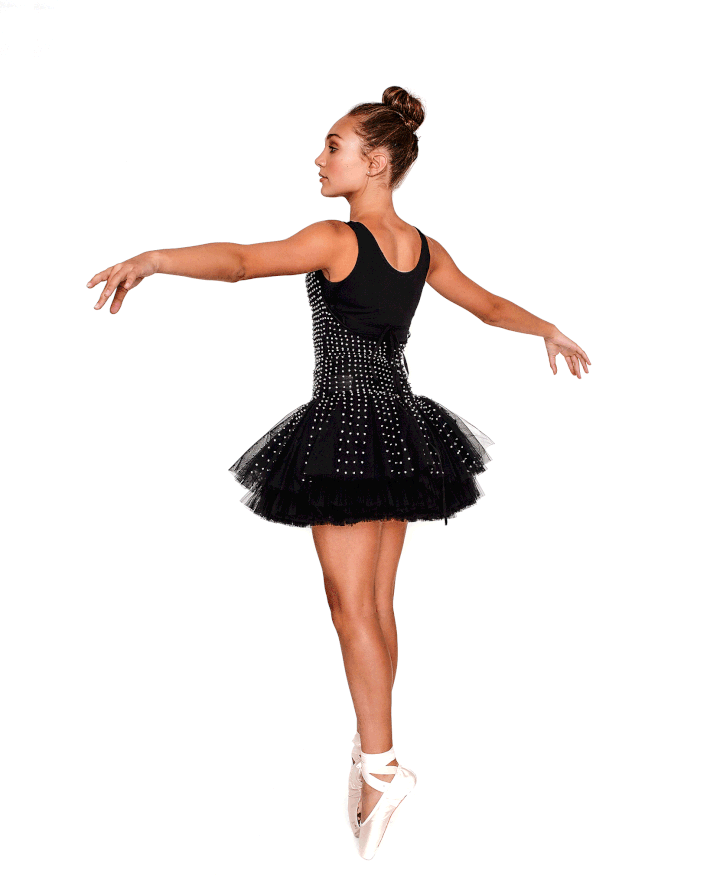 Ziegler has experience with both.  When she's at home in Pittsburgh, she'll go to class daily; these days, ballet is the focus, with three two-and-a-half-hour classes, including pointe, per week ("Some days, I'm like, 'Ugh, ballet,' but it's the foundation of everything, and I'm liking it a lot right now").  But with Sia, she must improvise and explore a new kind of contemporary movement, one that's turned her into a surprisingly sophisticated performer. (It helps that Ziegler is a prodigiously fast learner: She learned "Chandelier" in two hours.)
"She has, fascinatingly, really created her own world of dance," says Troy Schumacher, a New York City Ballet dancer and choreographer who worked with Ziegler on a striking Capezio commercial this past year. "When we talk about great dancers, it's definitely a persona that leaves a lasting impression — it's not necessarily the most technically perfect dancer. She's only 13, but there's a strong sense of personality that comes through in her movement that is somewhat iconic." Ziegler has become, in a sense, "the first digital dance star," he says.
That doesn't seem to have gone to Ziegler's head; in person, she's much like any teenage girl (her favorite recent movie: Zootopia). And don't expect her to morph into a Simon Cowell–esque dasher of dreams on SYTYCD. "I want them to see me as a mentor, as someone they can relate to without being scared and thinking, Oh no, she'll get mad at me and tell me I was awful," she says. Instead, she's hoping to leaven some of the show's harsh competitive vibe with the try-anything approach she learned from Sia.
As a classically trained dancer, it took some getting used to. "I had no clue what I was getting into," Ziegler recalls, of getting the call for the "Chandelier" music video. For one, she wasn't aware that Sia covered her face. "I just knew some of her songs and I thought I was going to be, like, a background dancer with some other people. I thought I was going to be swinging from a chandelier." She was startled to learn that not only would she be the only one in the video, there would be no chandelier involved.
The choreography was a 180 from what she knew. "The first time I went in, I was pointing my feet for everything, and Ryan Heffington, the choreographer, was like, 'Oh, you don't need to do that.' I was like [jaw drops] — that is the weirdest thing I've ever heard in my entire life," Ziegler says. "I don't think Sia likes everything to be perfect.  If my foot isn't totally pointed, she doesn't care. I can be free with my emotion, with my face, with the choreography." Then there were all the now-famous expressions she was asked to make, which were written into the choreography. "I was kind of uncomfortable with it at first," Ziegler says. "I'd never made silly faces like that before. There's this part where I had to hiss, and I'd giggle after I did it. Eventually I realized, you've just got to embrace it."
With four videos under her belt ("Chandelier," "Elastic Heart," "Big Girls Cry," and "Cheap Thrills"), Ziegler already has a body of work any modern dancer would be thrilled with, and, in Sia, a mentor who is helping her navigate fame. She's made it clear to Ziegler she can stop whenever she wants. "'If enough is enough … it's enough. If you're doing something you really don't want to do, just say no,'" Ziegler says, repeating Sia's words. "She doesn't want me to be unhappy." She's also helped Ziegler through insecurities any 13-year-old girl might deal with. "I've always been really big with my expressions — I have big eyes, big teeth, big nose — but my features help," she says. "At one point, I really wanted to change my teeth — I was like, 'They're huge, I don't like them.' And Sia and this makeup artist we work with, Tonya, were like, 'Don't change your teeth. If you changed them, you wouldn't be you.' And I don't want to now. It's like, me."
A version of this article appears in the July 11, 2016 issue of New York Magazine.